How Much Does Vein Mapping Cost? Everything You Must Know About Vein Mapping
How much does vein mapping cost?
The cost of vein mapping depends on numerous factors, including your specific conditions. Vein mapping involves using duplex ultrasound tests or other ultrasound scans to visualize the blood flow in your veins. The vein doctor interprets the results of the vein mapping test to determine if you have chronic venous insufficiency and the location of the diseased saphenous vein responsible for your problems. You may need vein mapping in your legs, arms, or both, depending on your symptoms. Our medical centers for vein treatment in California perform thorough vein mapping tests to curate a personalized treatment plan. We also provide free insurance verification and follow a strict no-surprise-billing policy, so you'll know exactly what you'll owe. Please schedule an appointment for an overview of your vein mapping cost and procedure today.
How long does vein mapping take?
The duration of vein mapping may range from 30 to 90 minutes. The ultrasound technician will perform vein mapping from your groin to your ankles or from your wrist to your neck. The specific duration will depend on your unique symptoms and condition.
What can I expect from a vein map?
Vein mapping is a simple and painless treatment. You should wear loose-fitting clothes for the session and inform your vein doctor of all ongoing medications. During the vein mapping session, the ultrasound technician will apply a cold gel to your skin and move the handheld duplex ultrasound device over your legs. The device will release sound waves to visualize the internal structures of the veins in the targeted areas. The vein doctor will interpret the results to determine if you have chronic venous insufficiency.
Vein mapping is a painless diagnostic procedure. It's a non-invasive means of visualizing the direction of blood flow in your leg veins — no incisions or injections. At most, you might feel a little cold when the gel is applied to your skin.
How do you prepare for a vein map?
Vein mapping doesn't involve any special preparation. You should be well hydrated during the session because that will enhance the visibility of the veins. You should also wear loose-fitting clothes and inform your vein doctor of all ongoing medications.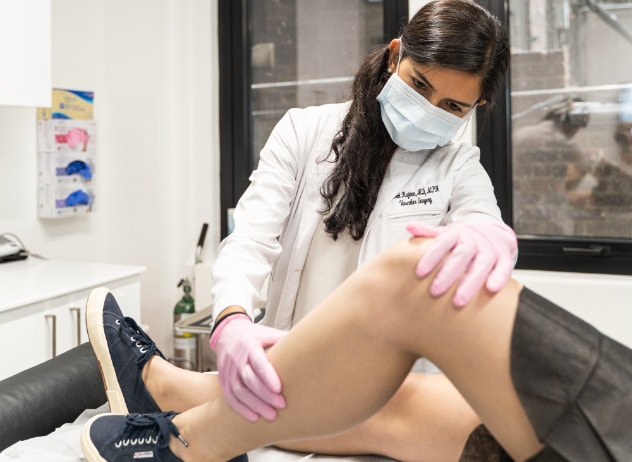 Is sclerotherapy considered surgery?
Sclerotherapy is a non-surgical and minimally invasive treatment for spider veins. Sclerotherapy involves injecting a sclerosant solution into spider veins to fuse their walls together, turning them into scar tissues eventually metabolized by the body. Sclerotherapy only involves a few careful injections — there are no major incisions or excisions. The procedure concludes within 30 to 60 minutes and involves no downtime.
What is ablation surgery for varicose veins?
Radiofrequency ablation and endovenous laser ablation are minimally invasive procedures for varicose veins and chronic venous insufficiency. During an ablation therapy, the vein doctor makes a small incision on the skin's surface to insert a specialized catheter into the diseased saphenous vein responsible for your vein problems. The catheter is driven under ultrasound guidance into the diseased vein, following which tumescent anesthesia is injected to protect the surrounding tissues. When activated, the catheter generates thermal energy or laser energy to collapse or destroy the diseased saphenous vein responsible for your vein problems, rerouting accumulated blood into healthier leg veins. This treatment addresses the root cause of varicose veins, ensuring safe and long-lasting results. Endovenous laser ablation is a non-surgical procedure that's performed within the vein doctor's office, and it concludes within an hour with no downtime, allowing you to resume your daily activities immediately. There are no harsh side effects or complications.
What happens if you don't wear compression stockings after sclerotherapy?
You must wear compression stockings after sclerotherapy and most other minimally invasive vein treatments. Compression stockings apply pressure on your leg veins to push the accumulated blood into healthier leg veins and prevent more blood from accumulating in the veins. You must wear compression stockings after sclerotherapy to facilitate optimal healing, prevent vein disease recurrence, and reduce swelling. If you don't wear compression stockings after sclerotherapy, you have a high risk of harsh side effects and complications.
What are the dangers of sclerotherapy?
Sclerotherapy is an extremely safe and painless procedure with minimal post-treatment side effects and negligible risk of complications. The most common side effects of sclerotherapy include redness, swelling, discomfort, and irritation around the injection points. The spider veins will initially harden and look darker before fading away completely. Some of the possible long-term complications of sclerotherapy include system allergies, tissue necrosis, nerve injuries, and edema. But these problems only occur in rare situations, especially when performed by inexperienced vein doctors without sufficient experience and training.
Should I elevate my legs after sclerotherapy?
You should elevate your legs above your heart's level to facilitate optimal blood flow to the heart. When you raise your legs above the heart's level, the blood in your veins flows towards the heart because of gravity, thus minimizing the risk of blood accumulation in leg veins. If you have a job that involves long periods of sitting or standing still, you can take short walking breaks to get the blood flowing in your veins.
How much does sclerotherapy cost?
The cost of ultrasound-guided sclerotherapy depends on your unique condition, the number of injections, and other factors. Sclerotherapy isn't always covered by insurance plans, but our vein doctors may extend coverage to sclerotherapy if you also have underlying vein disease. We provide free insurance verification and a thorough breakdown of your sclerotherapy treatment cost before the procedure.
CA Vein Doctors

Meet our team of California Vein Treatment Specialists
Vein Treatments are covered by most major medical insurances, including Medicare. Call us today to verify your insurance for FREE >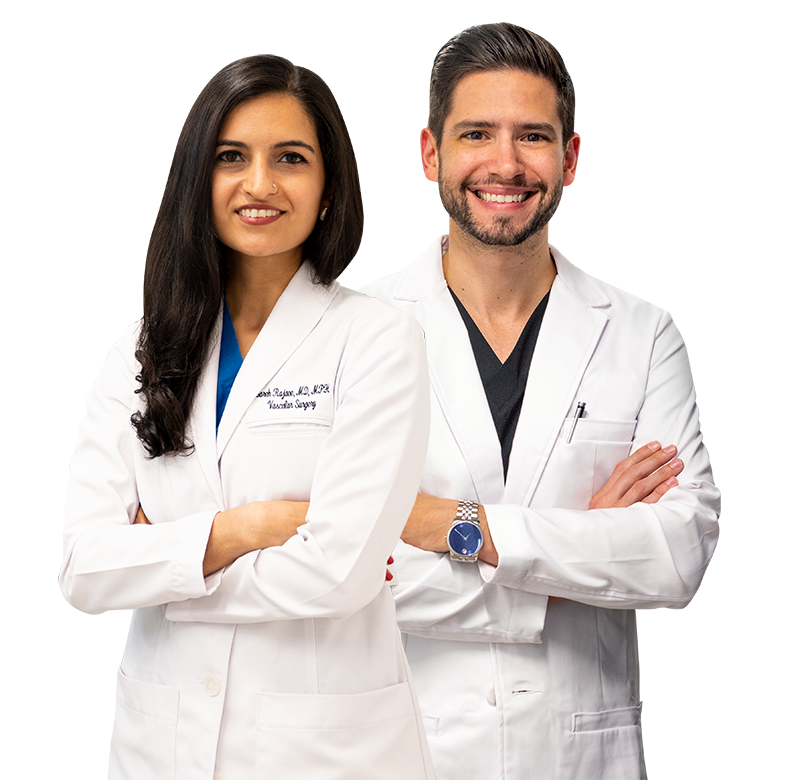 CALL US
Speak instantly with one of our team members; they will answer any questions you may have regarding insurance coverage, booking an appointment and our vein treatment locations. (858) 800-8772

BOOK APPOINTMENT
Visit our Book Appointment page and instantly request an appointment at the California vein Tretment. We offer Free Insurance Verification before your appointment.

GET DIRECTIONS
Learn how to get to one of our California vein centers in San Diego & San Jose