Are Spider Veins Dangerous? Consequences of Untreated Spider Veins
Are spider veins dangerous?
Spider veins are a common condition that affects many people and typically appear on the legs, ankles, and feet. They are easily visible and look alarming — but are spider veins dangerous? Let's explore.
Spider veins, sometimes also known as telangiectasias, are typically small dilated blood vessels that have a web-like appearance beneath the skin. Spider veins may be blue, red, or purple and generally range in size from a few millimeters to a few centimeters. While they can feel achy or itchy in some cases, they are generally not painful.
So to answer the question – are spider veins dangerous? In the most general sense, the answer is no. Spider veins are a cosmetic condition that, unlike varicose veins, do not cause health risks. However, in some cases, spider veins can be indicative of underlying vein problems, such as chronic venous insufficiency or deep vein thrombosis.
If your spider veins are caused by chronic venous insufficiency, you may also suffer from leg heaviness, leg pain, restless leg syndrome, frequent leg cramps, and throbbing leg veins, especially at night or after long periods of inactivity. Chronic venous insufficiency is a dangerous medical condition that worsens with time, so early diagnosis is necessary.
Even though spider veins are usually harmless, you must contact a board-certified vein doctor for a diagnosis and treatment. If your spider veins are caused by vein disease, it's best to act quickly before you suffer from leg ulcers, deep vein thrombosis, varicose veins, and other serious health problems and vascular conditions.
California Vein Treatment is a group of state-of-the-art medical centers for vein treatment in San Diego and San Jose. You can find our medical centers for vein treatment in the La Jolla neighborhood on the outskirts of San Diego or near Palo Alto, Sunnydale, and Santa Clara in San Jose. Please schedule an appointment to explore your vein treatments in California.
Do spider veins ever go away?
Do spider veins ever go away naturally? The simple answer is NO. Spider veins, often found on the legs, can be embarrassing for both men and women. Spider veins are enlarged, thin, red, pink, and blue vessels that give the legs a "spider web" appearance. Unfortunately, these pesky veins are here to stay… at least naturally.
It's possible to reduce or eliminate the appearance of spider veins with the help of a vein doctor. The best procedure for spider veins is sclerotherapy. This involves injecting a sclerosing solution into the affected spider veins to fuse their walls together. The spider veins turn into hardened scar tissues, eventually metabolized and reabsorbed by the body, gradually fading away from the skin's surface. To eliminate spider veins, you must contact a vein doctor to explore your minimally invasive spider vein treatments in California.
​Why do I have veins on my feet?
Spider veins, also known medically as telangiectasia, are reddish, sometimes purplish, veins that appear on the surface of the skin. They get their name because they look like spider webs when you view them up close. If you have them on your feet, you may have asked yourself, 'Why do I have spider veins on my feet?'
Spider veins on your feet can be caused by a variety of factors. One of the most common causes is heredity. If someone in your family tree had them, you are more likely to have them too. Additionally, lifestyle choices, such as spending long hours on your feet, can bring on spider veins. If you stand or sit in one place for hours on end, the extra pressure on your veins can cause them to dilate and appear on the surface of your skin.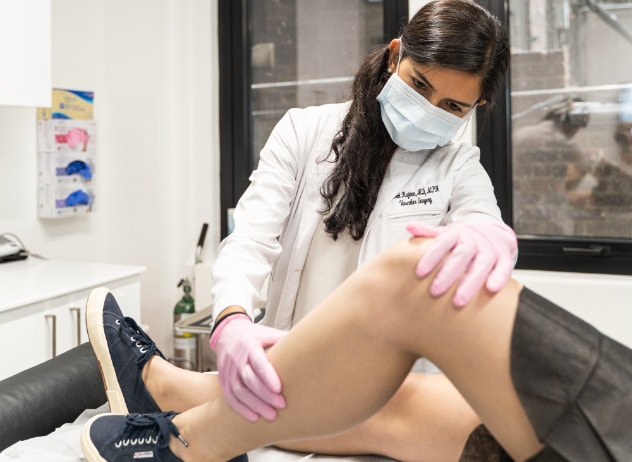 What are spider veins a symptom of?
Spider veins are small, thin, twisted veins visible on the skin's surface. They are typically red, blue, or purple and can appear anywhere on the body. Spider veins are often a symptom of chronic venous insufficiency, a type of vein problem caused by weakened valves in the veins that make it difficult for the blood to travel through them, resulting in a backup of blood in the veins. Spider veins are usually not dangerous, but if left untreated, chronic venous insufficiency can lead to complications such as skin ulcers and visible varicose veins.
Can compression stockings treat spider veins?
Yes, compression stockings can help with spider veins. They work by increasing the pressure in your leg muscles, which helps move blood more efficiently away from the affected area. Spider veins can be uncomfortable and painful, so the added pressure from the stockings can reduce these symptoms. Compression stockings can also prevent spider veins from getting worse. However, compression stockings can't treat underlying vein disease or remove spider veins completely — they can only provide temporary relief.
What happens if spider veins are left untreated?
Spider veins can be cosmetically displeasing, but more importantly, if left untreated, they can cause uncomfortable symptoms such as heaviness, throbbing, and aching in the legs. Additionally, blood can start to pool in the veins due to weak valves, leading to a build-up of pressure and an increased risk of infection. Furthermore, if the skin is stretched too thin, it can break and cause bruising or bleeding. This is why it is important to treat spider veins as soon as possible.
How do I stop my spider veins from progressing?
Spider veins can be both unsightly and uncomfortable, but the good news is that it's possible to prevent them from getting worse. The best way to stop spider veins from progressing is to maintain a healthy lifestyle, exercise regularly, and wear compression stockings. Keeping your weight in check and avoiding prolonged sitting or standing can prevent spider veins from worsening. With the correct lifestyle changes and preventive care, it is possible to reduce the appearance and progression of spider veins.
CA Vein Doctors

Meet our team of California Vein Treatment Specialists
Vein Treatments are covered by most major medical insurances, including Medicare. Call us today to verify your insurance for FREE >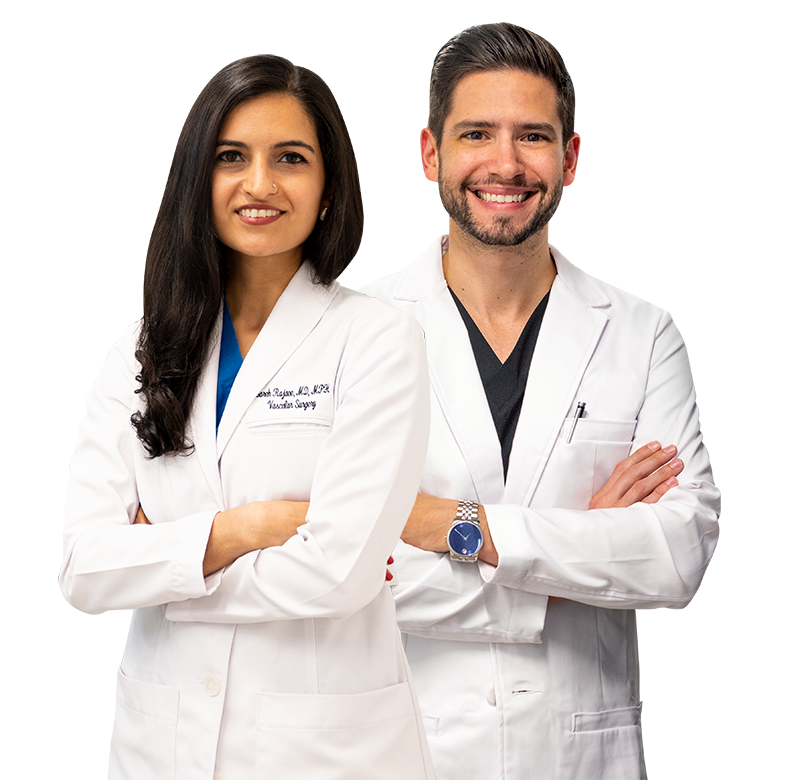 CALL US
Speak instantly with one of our team members; they will answer any questions you may have regarding insurance coverage, booking an appointment and our vein treatment locations. (858) 800-8772

BOOK APPOINTMENT
Visit our Book Appointment page and instantly request an appointment at the California vein Tretment. We offer Free Insurance Verification before your appointment.

GET DIRECTIONS
Learn how to get to one of our California vein centers in San Diego & San Jose