Chronic Venous Insufficiency Treatments: Everything You Need to Know
What is chronic venous insufficiency?
Chronic venous insufficiency (CVI) is a condition of the circulatory system in which the veins cannot pump enough blood back to the heart. It occurs when the valves inside your veins fail, reducing the efficiency of your veins to carry blood back to the heart. CVI is a common problem affecting up to 30 percent of adults in the United States and can lead to many health complications, from leg pain and swelling to skin problems.
The major cause of CVI is when muscles and connective tissues weaken and cause the valves in the veins to not function properly. This causes the blood to reverse flow, pooling in the lower legs and ankles. Varicose veins are a common symptom of CVI and result from blood pooling in the veins. Other indicators of CVI include swelling, fatigue, heaviness in the legs, skin ulcers, and discoloration.
These symptoms may be mild and manageable in the early stages of CVI. However, as the condition progresses, the symptoms can become more severe, leading to complications such as ulcers, skin changes, and even infection. The severity of CVI can vary from person to person, depending on the amount of pressure put on the veins. However, the symptoms of venous insufficiency progressively worsen with time, so prompt treatment is essential.
CVI can be a potentially dangerous condition and should not be taken lightly. If you are experiencing any symptoms of CVI, it's important to talk to your vein doctor to get a proper diagnosis and treatment plan. Your vein doctor can recommend lifestyle changes, compression stockings, and minimally invasive treatments, such as sclerotherapy, radiofrequency ablation, laser ablation, and venaseal, to improve your symptoms and reduce your risk of further complications.
You can find our vein doctors at our medical centers for vein treatment in San Diego or San Jose. Our medical center for vein treatment in San Diego is located in a beautiful neighborhood called La Jolla near the Torrey Pines beach state park, and the San Jose office is near Palo Alto, Sunnydale, and Santa Clara. Please schedule an appointment with our board-certified vein doctors to explore your vein treatments in California.
What are the signs and symptoms of chronic venous insufficiency?
Chronic venous insufficiency (CVI) can cause uncomfortable and sometimes painful symptoms that make daily activities more difficult. Common signs and symptoms of CVI include tiredness, achy, swollen legs and ankles, leg heaviness, throbbing, cramping, leg discomfort, itching, and skin discoloration on the lower legs. Spider veins and varicose veins are also caused by chronic venous insufficiency. Over time, if left untreated, venous insufficiency can lead to leg ulcers and deep vein thrombosis, a medical condition where blood clots accumulate in the veins.
What are the causes of chronic venous insufficiency?
Chronic venous insufficiency (CVI) occurs when the valves in the veins are not working properly, leading to swelling and discomfort in the legs. While there are many potential causes of CVI, some of the most common include deep vein thrombosis, obesity, smoking, pregnancy, aging, and excessive standing or sitting for long periods. Changes in hormone levels may also play a role in CVI. It is important to consult a vein doctor if you experience any of the symptoms associated with CVI, as prompt treatment can help prevent more serious complications.
How is chronic venous insufficiency diagnosed?
Diagnosing chronic venous insufficiency typically begins with a physical exam and a discussion with the patient about their medical history. A common method of diagnosing chronic venous insufficiency is a duplex ultrasound, which uses sound waves to produce visual images of the veins and allows doctors to check for blockages or other issues with the veins. Duplex ultrasound is a simple and non-invasive procedure that offers a detailed and accurate look at the patient's venous system.
How can I prevent chronic venous insufficiency?
Chronic Venous Insufficiency (CVI) is a condition in which the veins of the legs are not able to adequately return blood from the feet and legs to the heart. Fortunately, there are several steps you can take to help prevent CVI, such as exercising regularly, maintaining a healthy weight, and avoiding sitting or standing in one position for long periods. You should also wear compression stockings, elevate your legs when resting, avoid crossing your legs, and practice healthy habits such as eating a balanced diet and avoiding smoking.
What are the best minimally invasive procedures for chronic venous insufficiency?
The most common minimally invasive procedures for CVI are radiofrequency ablation, endovenous laser ablation, and VenaSeal treatment.
Radiofrequency ablation is a procedure that utilizes heat to eliminate the affected area and reduce the symptoms of CVI. It is performed by inserting a thin catheter into the affected vein, releasing radio waves to heat and collapse the vein walls, thus removing it from circulation. This procedure is relatively quick and is usually done in an outpatient setting with minimal discomfort or downtime.
Endovenous laser ablation is also a minimally-invasive procedure for CVI. It uses a laser to heat up and collapse the affected vein, rerouting the accumulated blood into healthier leg veins. EVLT is also performed as an outpatient procedure.
VenaSeal is a procedure that works by sealing off the affected vein to stop any further leakage. A special adhesive is injected into the affected vein to seal up the vein walls, essentially turning the diseased vein into a hardened tissue absorbed by the body.
Radiofrequency ablation, endovenous laser ablation, and VenaSeal treatment are the best minimally invasive procedures for chronic venous insufficiency. Each method has distinct advantages and disadvantages, so it is important to speak with your vein doctor to determine which is best for you. With the right treatment, you can enjoy a healthier, more comfortable life without spider veins, varicose veins, and other vein problems.
CA Vein Doctors

Meet our team of California Vein Treatment Specialists
Vein Treatments are covered by most major medical insurances, including Medicare. Call us today to verify your insurance for FREE >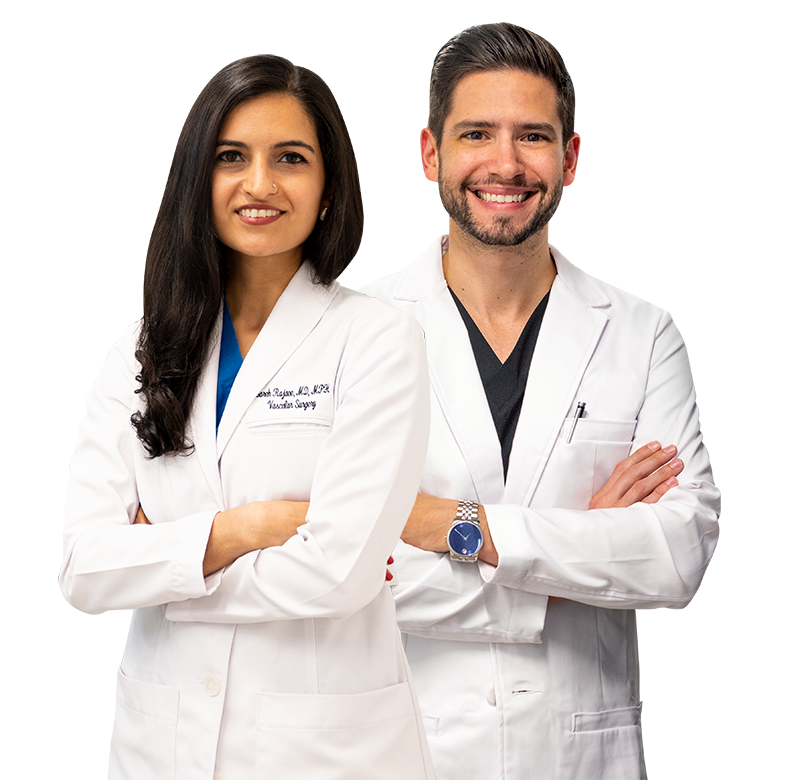 CALL US
Speak instantly with one of our team members; they will answer any questions you may have regarding insurance coverage, booking an appointment and our vein treatment locations. (858) 800-8772

BOOK APPOINTMENT
Visit our Book Appointment page and instantly request an appointment at the California vein Tretment. We offer Free Insurance Verification before your appointment.

GET DIRECTIONS
Learn how to get to one of our California vein centers in San Diego & San Jose