Do's and Don'ts After Sclerotherapy: Ensuring the Best Results from Spider Vein Treatment
What are the do's & dont's after sclerotherapy?
Sclerotherapy is a popular treatment for spider veins and small varicose veins. It involves injecting a sclerosing solution into the veins, which causes them to collapse and fade away. If you're considering sclerotherapy, it's important to be aware of the do's and don'ts after the procedure. Following these guidelines will help you get the best results and minimize the risk of complications.
DO wear compression stockings. Your doctor will likely prescribe compression stockings to be worn after sclerotherapy. These stockings apply pressure to the treated area and prevent new spider veins from forming.
DO take it easy. Avoid strenuous activity and prolonged sitting or standing for the first few days after sclerotherapy. This will reduce the risk of bruising or swelling.
DO walk frequently. You should avoid strenuous workouts, but walking is highly recommended. You can start walking immediately after your sclerotherapy session because it improves blood circulation and prevents blood from pooling in the leg veins.
DO keep your follow-up appointments. It's important to attend all your follow-up appointments so your doctor can monitor your progress and identify new spider veins.
Post-Sclerotherapy DON'Ts:
DON'T take baths. Taking a bath can increase the risk of infection, so it's best to avoid it for the first few days after sclerotherapy.
DON'T use saunas or steam rooms. Like baths, saunas and steam rooms can also increase the risk of infection. You shouldn't expose the treated areas to high temperatures.
DON'T expose the treated area to the sun. Sun exposure can cause the treated veins to darken and become more visible. It's important to wear sunscreen and cover up the treated area when you're outdoors.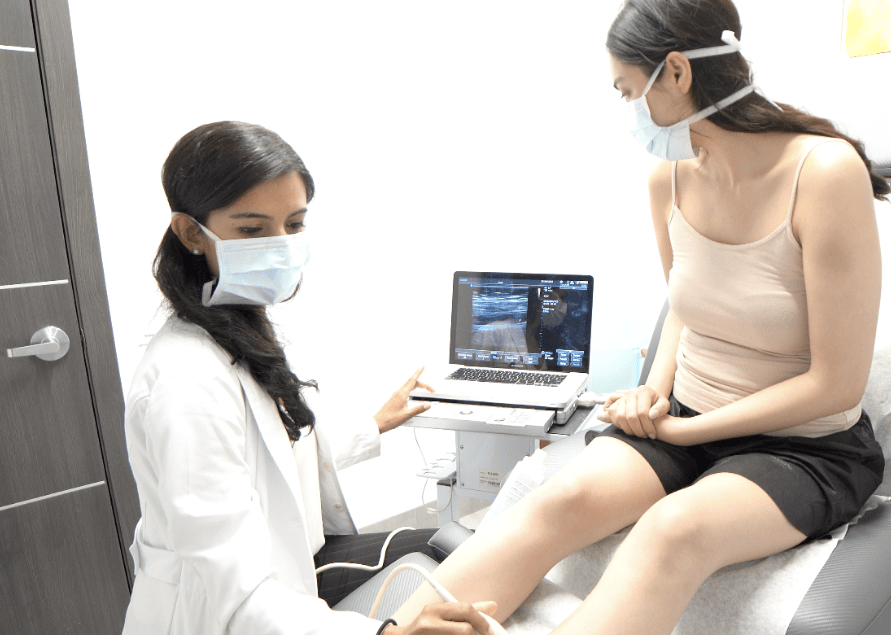 By following these do's and don'ts, you'll ensure a successful outcome from your sclerotherapy treatment. The post-treatment swelling, tenderness, and bruising should quickly dissipate within a few weeks if you follow these aftercare guidelines. Furthermore, the treated spider veins will become darker and harden into scar tissues, following which they will gradually get reabsorbed by the body and fade away from the skin's surface.
What is the fastest way to recover from sclerotherapy?
Recovery from sclerotherapy is usually pretty quick and easy, but there are a few things you can do to help speed things along. Drink plenty of water in the days following your treatment to improve blood circulation and reduce swelling. You must avoid sun exposure because direct sunlight can cause the veins to darken and become more visible. You must also avoid strenuous activity for the first few days after treatment to recover quickly.
How long should you wear compression stockings after sclerotherapy?
Compression stockings are an important part of the treatment process for sclerotherapy. But knowing how long to wear them can be tricky.
Here's a general guideline: For the first 24 hours after sclerotherapy, wear compression stockings continuously. After that, you can take them off to shower but should put them back on as soon as possible. For the next 7 to 10 days, wear the stockings during the day and take them off at night. After that, you can start wearing them less and less. But it's important to wear them whenever you are sitting or standing for long periods of time. That includes flying and car rides.
Wearing compression stockings may be uncomfortable at first, but they get more comfortable over time. Compression stockings ensure your spider vein treatments are successful.
What happens if you don't wear a compression hose after sclerotherapy?
If you don't wear compression stockings after sclerotherapy, you may experience more swelling, bruising, and discomfort than you would otherwise. Wearing compression stockings prevents these complications by applying pressure to the treated area, improving blood circulation, and preventing the accumulation of blood in leg veins.
How much should I walk after sclerotherapy?
Walking is a great way to help your body heal after sclerotherapy. It increases blood flow and helps to reduce swelling. It is important to walk every day, even if it is just for a short time. How much you walk is up to you, but it is generally recommended to walk for at least 30 minutes a day. If you can, try to walk for longer periods of time or increase the intensity of your walks. This will help your body to heal faster.
Should you elevate your legs after sclerotherapy?
After sclerotherapy, it is important to elevate your legs above your heart for at least 30 minutes. This helps to reduce swelling and bruising. When you elevate your legs above your heart's level, gravity forces the accumulated blood in your leg veins to flow towards your heart, thus alleviating pressure from your legs. As such, elevating your legs for 30 minutes a few times a day can improve the healing process.
How can you tell if sclerotherapy is working?
Your spider veins may look darker and feel harder a few days after your sclerotherapy treatment. That's because your spider veins will turn into hardened scar tissues before getting metabolized by the body, following which they will fade away from the skin.
You should see a marked reduction in the appearance of varicose veins or spider veins within a few weeks of your treatment.
You should feel a significant improvement in your symptoms, such as leg heaviness, leg aching, or muscle cramping in your legs, a few days after your treatment.
California Vein Treatment is a group of state-of-the-art medical centers specializing in cutting-edge, minimally invasive spider vein and varicose vein treatments in California. Our medical centers for vein treatment are located in San Diego and San Jose. Depending on your location, please visit your nearest medical center for vein treatment in California to explore your spider vein treatment options — we offer personalized treatments and support you through every stage of the recovery process.
CA Vein Doctors

Meet our team of California Vein Treatment Specialists
Vein Treatments are covered by most major medical insurances, including Medicare. Call us today to verify your insurance for FREE >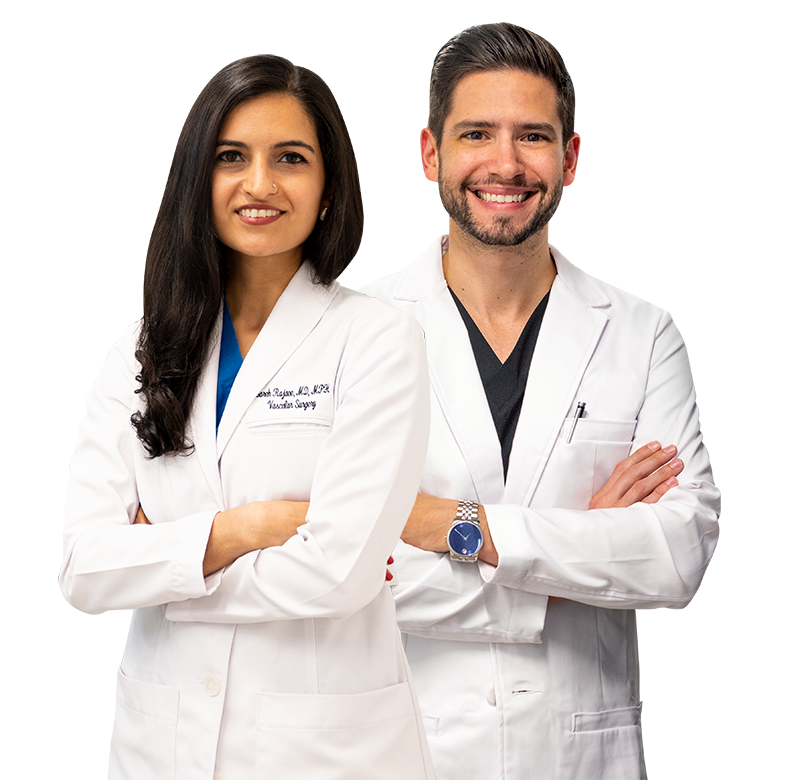 CALL US
Speak instantly with one of our team members; they will answer any questions you may have regarding insurance coverage, booking an appointment and our vein treatment locations. (858) 800-8772

BOOK APPOINTMENT
Visit our Book Appointment page and instantly request an appointment at the California vein Tretment. We offer Free Insurance Verification before your appointment.

GET DIRECTIONS
Learn how to get to one of our California vein centers in San Diego & San Jose