How Long Does The VenaSeal Procedure Take? And Other FAQs About Vein Treatments in California
How long does the VenaSeal procedure take?
The VenaSeal procedure is a minimally invasive treatment for varicose veins that uses medical adhesives to seal off the affected veins. The procedure is typically performed in a vein doctor's office and takes about 45 minutes to an hour to complete.
What is glue therapy for varicose veins?
Glue therapy, also known as VenaSeal, is a non-surgical treatment option for varicose veins. During the procedure, a medical adhesive is injected into the affected vein, sealing it off and redirecting blood flow to healthier veins. The adhesive is made from a compound called cyanoacrylate, similar to the material used in medical-grade glue.
VenaSeal vs. sclerotherapy: which is better?
VenaSeal and sclerotherapy are effective treatment options for varicose veins, and the best choice for an individual will depend on their specific needs and preferences.
Sclerotherapy is a procedure in which a solution is injected into the affected veins, causing them to collapse and seal off. It is generally less invasive than VenaSeal and may be a good option for smaller spider veins. However, it may require multiple treatments to achieve the desired results, and it can't address the root cause of spider veins.
VenaSeal, on the other hand, is generally less painful and requires fewer treatments. It is also less likely to cause side effects such as skin discoloration or scarring. However, VenaSeal isn't generally used for spider veins — it's used for larger varicose veins and underlying chronic venous insufficiency.
Depending on your unique condition, you may need sclerotherapy, VenaSeal, or both!
Can you walk after VenaSeal?
Yes, you can walk after the VenaSeal procedure. In fact, it's recommended to walk for a few minutes immediately after the procedure to increase circulation and speed up the healing process. You can resume your normal activities, including walking, immediately after the procedure, but heavy lifting and strenuous workouts should be avoided for a week.
Are you awake for VenaSeal?
Yes, the VenaSeal procedure is typically performed while the patient is awake. Local anesthesia is usually applied to the area to numb it and minimize any discomfort. Most patients can tolerate the procedure with minimal discomfort and do not require sedation.
How is the VenaSeal procedure prepared?
Before the VenaSeal procedure, your vein doctor will ask you to stop taking certain medications, such as blood thinners, that may increase the risk of bleeding. You should also inform your vein doctor about any allergies and medications you are currently taking.
On the day of the procedure, wear loose, comfortable clothing and avoid applying lotions or oils to your legs. You may be asked to remove jewelry or other items that interfere with the procedure. It is also a good idea to arrange for someone to drive you home after the procedure, as you may feel a little dizzy or disoriented from the local anesthesia.
Is the VenaSeal procedure painful?
The VenaSeal procedure is generally well tolerated by most patients and is not typically considered painful. Local anesthesia is usually applied to the area to numb it and minimize any discomfort during the procedure. Some patients may experience a slight stinging sensation when the adhesive is injected, but this is usually mild and only lasts for a few seconds. After the procedure, some patients may experience mild discomfort or swelling in the treated area, but this typically goes away within a few days.
How long does it take to recover from VenaSeal?
Recovery from the VenaSeal procedure is generally quick and easy. Most patients can resume their normal activities, including walking, immediately after the procedure. Walking for a few minutes after the procedure is recommended to increase circulation and speed up the healing process. Some swelling or discomfort may occur in the treated area, but this usually goes away within a few days. Your doctor may recommend avoiding strenuous activities, such as heavy lifting or intense exercise, for a few days after the procedure.
Do you have to wear compression stockings after VenaSeal?
Compression stockings are not typically required after the VenaSeal procedure. However, your doctor may recommend that you wear them for a short period, such as a few days to a week, to reduce swelling and improve circulation.
Can I shower after VenaSeal?
Yes, you can shower after the VenaSeal procedure. It is generally safe to shower or take a bath as soon as you feel comfortable doing so. However, please avoid soaking the treated area in hot water or exposing it to direct heat, such as a heating pad or hot water bottle, for at least the first 48 hours after the procedure.
What are the risks of VenaSeal?
Like any medical procedure, VenaSeal carries a small risk of complications. These may include bleeding, infection, and allergic reactions to the adhesive. Other potential risks include vein thrombosis (blood clot in the vein), skin irritation, and scarring. Most of these rare complications can be managed with proper medical care. Furthermore, you must consult a board-certified vein doctor to minimize the risk of complications.
Our board-certified vein doctors always examine your leg veins, discuss your goals and concerns, administer comprehensive imaging tests, and ask about your allergies and medical history to curate a personalized treatment plan consisting of minimally invasive procedures. We only recommend VenaSeal if you're a good candidate for the procedure. Our considered approach to vein care ensures safe, consistent, and reliable results without complications or unwanted consequences.
Our medical centers for vein treatment are located in La Jolla, San Diego, and the Bay Area. If you're in South Bay, you can visit your nearest medical center for vein treatment near the Santana Row Shopping Mall. Please schedule an appointment online.
CA Vein Doctors

Meet our team of California Vein Treatment Specialists
Vein Treatments are covered by most major medical insurances, including Medicare. Call us today to verify your insurance for FREE >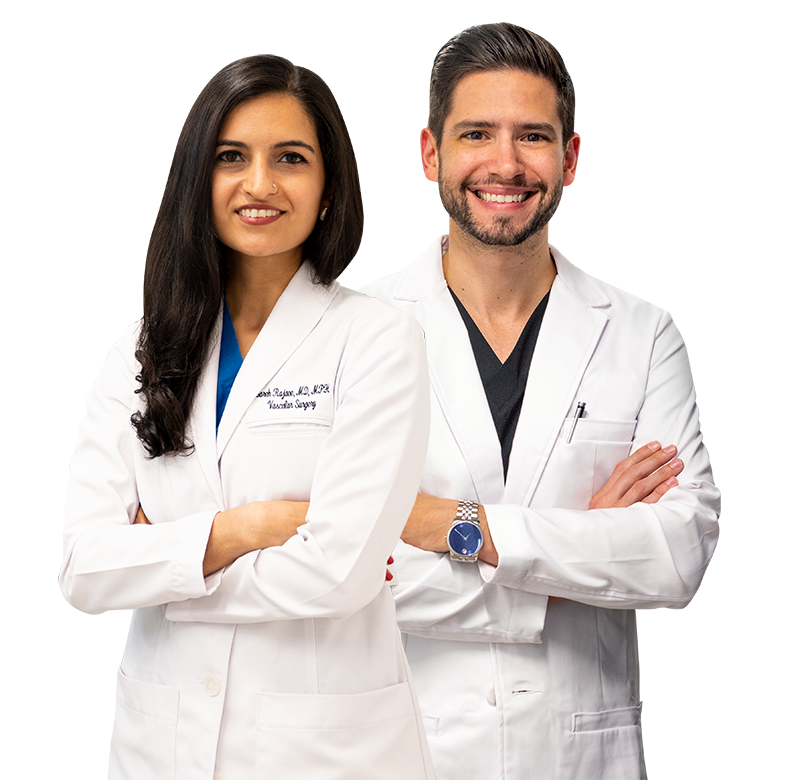 CALL US
Speak instantly with one of our team members; they will answer any questions you may have regarding insurance coverage, booking an appointment and our vein treatment locations. (858) 800-8772

BOOK APPOINTMENT
Visit our Book Appointment page and instantly request an appointment at the California vein Tretment. We offer Free Insurance Verification before your appointment.

GET DIRECTIONS
Learn how to get to one of our California vein centers in San Diego & San Jose