How to Ease Painful Varicose Veins?
Varicose veins are enlarged, twisted, and bulging veins that commonly appear on the legs and feet. They can be painful and uncomfortable, leading to swelling, aching, and cramping in the affected area. If you're experiencing these symptoms, you may be wondering how to ease painful varicose veins. At California Vein Treatment, we specialize in treating varicose veins and can provide you with the guidance and care you need.
What Causes Varicose Veins?
Varicose veins are caused by weakened or damaged valves in the veins that allow blood to flow backward and pool in the veins. This results in the veins becoming enlarged and bulging, leading to the characteristic gnarled appearance of varicose veins. Several factors can increase your risk of developing varicose veins, including:
Age
Gender (women are more likely to develop varicose veins)
Family history of varicose veins
Obesity or being overweight
Pregnancy
Prolonged standing or sitting
Lack of exercise
Indications for Varicose Vein Surgery
Varicose vein surgery is a traditional treatment option that has been used for many years to remove varicose veins. However, this approach involves incisions, general anesthesia, and a long recovery period. This can lead to discomfort, scarring, and a longer period of immobility, which can impact your daily life. Moreover, the risks of complications such as infection and bleeding are also increased with surgery.
Fortunately, there are now minimally invasive vein treatments available that offer a safer, less painful, and more effective approach to treating varicose veins. These treatments, including sclerotherapy, endovenous laser ablation, radiofrequency ablation, venaseal, and ambulatory phlebectomy, have been proven to provide excellent results with a shorter recovery period.
Sclerotherapy involves injecting a solution into the affected vein to cause it to collapse and fade. Endovenous laser ablation uses a laser to close the vein from the inside, which causes it to shrink and fade over time. Radiofrequency ablation is a similar procedure to endovenous laser ablation but uses radiofrequency energy to close the vein instead of a laser. Venaseal involves using a medical adhesive to seal the vein shut.
These minimally invasive vein treatments offer numerous benefits over traditional surgery, including less discomfort, fewer risks of complications, and a quicker recovery time. Additionally, they are performed on an outpatient basis, meaning that you can return home the same day and resume your normal activities within a few days.
Some indications for varicose vein treatment include:
Pain or discomfort that interferes with daily activities
Skin changes such as discoloration or ulceration
Bleeding from the affected vein
Blood clots in the affected vein
Large, bulging varicose veins
Which Specialist Treats Varicose Veins?
If you suspect that you have varicose veins, you should schedule a vein consult with a vein specialist. A vein specialist is a doctor who specializes in the diagnosis and treatment of vein disorders, including varicose veins. At California Vein Treatment, our medical centers for vein treatment are led by board-certified vein doctors who have extensive experience in treating varicose veins. Our vein doctors are officially certified by the American Board of Venous and Lymphatic Medicine, so they're some of the best vein specialists in the country.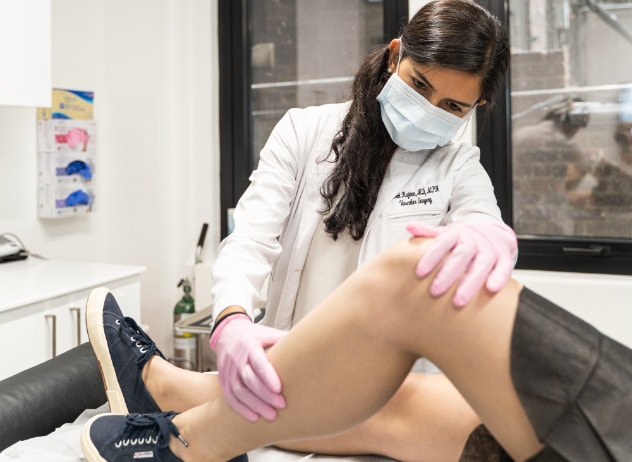 Varicose Veins on Black Skin
Varicose veins can occur on any skin color, but they may be more visible on darker skin tones, including black skin. At California Vein Treatment, we recognize the unique challenges and concerns that patients with varicose veins on black skin may face. That's why our board-certified vein doctors provide personalized treatment options that are tailored to your specific needs and skin type. We take into consideration your individual concerns, skin tone, and medical history to ensure that you receive the best possible care and achieve optimal results.
How to Ease Painful Varicose Veins
In addition to seeking professional treatment, there are several things you can do at home to ease the pain and discomfort of varicose veins. These include:
Stretch your legs: If you sit or stand for long periods, make sure to stretch your legs and move around periodically to promote circulation.
Elevate your legs: Elevating your legs above heart level can help reduce swelling and improve blood flow.
Wear compression stockings: Compression stockings apply pressure to the legs, which can help blood vessels shrink and improve circulation. They should be worn for at least 30 minutes several times a day.
Exercise regularly: Exercise can help strengthen the calf muscles, which can improve blood flow and reduce the risk of developing varicose veins.
Maintain a healthy weight: Being overweight or obese can put extra pressure on the veins and increase the risk of developing varicose veins.
When to See a Vein Doctor
If you're experiencing pain, swelling, or discomfort in your legs, it's important to see a vein doctor to determine the underlying cause. A doctor can perform a physical examination and order imaging tests such as an ultrasound to diagnose varicose veins. They can also recommend treatment options to help ease your symptoms. At California Vein Treatment, we offer free insurance verification before your first appointment, so you can rest assured you're receiving high-quality care.
At California Vein Treatment, we offer a variety of minimally invasive treatment options to help reduce pain and discomfort and improve the appearance of varicose veins. Our San Diego medical center is located in the beautiful neighborhood of La Jolla, near the Torrey Pines beach state park and the Westfield UTC shopping center. Our San Jose medical center is located near Palo Alto, Sunnydale, and Santa Clara, just down the block from the Santa Clara Medical Center. Both of our locations offer a comfortable and welcoming environment for patients to receive high-quality vein treatments from our experienced vein doctors.
If you're experiencing symptoms of varicose veins, schedule a vein consult with one of our board-certified vein doctors today.
CA Vein Doctors

Meet our team of California Vein Treatment Specialists
Vein Treatments are covered by most major medical insurances, including Medicare. Call us today to verify your insurance for FREE >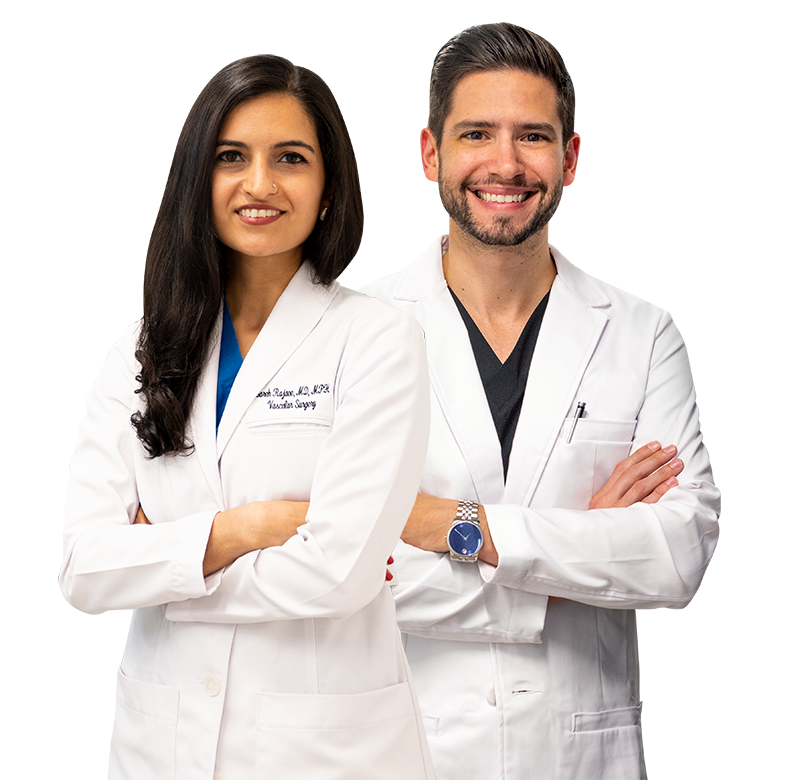 CALL US
Speak instantly with one of our team members; they will answer any questions you may have regarding insurance coverage, booking an appointment and our vein treatment locations. (858) 800-8772

BOOK APPOINTMENT
Visit our Book Appointment page and instantly request an appointment at the California vein Tretment. We offer Free Insurance Verification before your appointment.

GET DIRECTIONS
Learn how to get to one of our California vein centers in San Diego & San Jose