Should I Go To The Doctor For Varicose Veins? Top 5 Reasons to Consult Vein Doctors
Should I go to the doctor for varicose veins?
Varicose veins are twisted, swollen veins that protrude out from the skin's surface. They usually occur in the legs and can be blue, purple, or flesh-colored. Varicose veins are caused by chronic venous insufficiency, a circulatory condition in which the veins have difficulty carrying blood back to the heart. There are several reasons to consult a vein doctor and undergo varicose vein treatment, including:
Varicose veins can cause discomfort and pain. If you have varicose veins, you may experience aching or cramping in your legs, especially after standing or sitting for long periods. The pain may be relieved by elevating your legs or wearing compression stockings, but the relief from lifestyle changes is temporary. You need varicose vein treatments to alleviate leg pain for good, allowing you to resume your daily activities without discomfort.
Varicose veins can lead to more serious health problems. If left untreated, varicose veins can lead to complications like blood clots, skin irritation, and ulcers. In severe cases, varicose veins can cause the skin to turn red, itchy, and inflamed, leading to infection. That's because varicose veins are symptomatic of chronic venous insufficiency, a medical condition that worsens with time, eventually leading to serious health problems.
Varicose veins can affect your appearance. Varicose veins can be unsightly and make you self-conscious about your appearance. They look like thick ropes of tangled, knotted, and twisted blood vessels protruding out of your skin's surface, often resembling branches. If you are concerned about how your varicose veins look, varicose vein treatments can help improve the appearance of your legs, making you feel better about yourself.
Varicose vein treatment is safe and effective. Treatment options for varicose veins include sclerotherapy, laser ablation, and radiofrequency ablation. These treatments are minimally invasive and outpatient, usually involving a small incision on the skin's surface, so the risk of side effects and complications is negligible. Furthermore, minimally invasive varicose vein treatments have a nearly perfect success rate.
Early treatment can prevent the progression of varicose veins. If you have varicose veins, it is important to seek treatment as soon as possible. Early treatment can prevent the condition's progression and reduce the risk of complications. If you don't seek treatment early, your varicose veins will continue expanding and dilating, eventually leading to a high risk of burst veins, which can lead to profuse bleeding.
In conclusion, if you experience discomfort or pain from varicose veins or are concerned about the appearance of your legs, please consult a vein doctor. Varicose vein treatment is safe and effective and can prevent the progression of the condition.
Our board-certified vein doctors in California carefully examine your leg veins, discuss your symptoms, administer duplex ultrasound tests, and curate personalized varicose vein treatment plans to ensure optimal results. We have state-of-the-art medical centers for vein treatment in San Jose and San Diego, a short drive from the Westfield UTC shopping center. Please schedule an appointment at your nearest medical center for vein treatment in California.
My varicose vein hurts when I walk: what does it mean, and what can I do?
If your varicose vein is hurting when you walk, it could be a sign of chronic venous insufficiency, a condition in which the veins have difficulty carrying blood back to the heart. When this occurs, the blood can pool in the veins, causing them to become swollen and painful. Walking can put additional pressure on the veins and worsen the pain.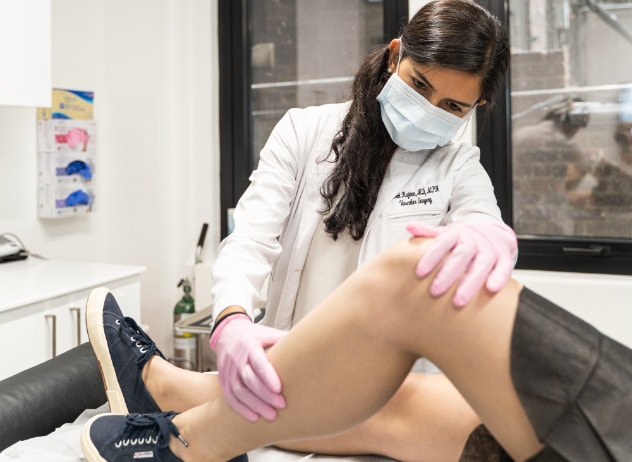 You can implement the following lifestyle changes to alleviate the pain and discomfort:
Elevate your legs: Elevating your legs can reduce swelling and improve circulation. Try lying down with your feet elevated on a pillow for 15-20 minutes several times a day.
Wear compression stockings: Compression stockings can improve circulation and reduce swelling. They can also provide support for your legs and alleviate pain.
Exercise: Regular exercise can improve circulation and strengthen your leg muscles, reducing the pain caused by varicose veins. The best exercises for varicose veins are running, swimming, cycling, yoga, and other cardiovascular exercises that engage the legs.
Avoid standing or sitting for long periods: Prolonged periods of standing or sitting can worsen the pain caused by varicose veins. Try to take breaks and walk around every hour to improve circulation and reduce the symptoms of vein disease.
How to treat reticular veins?
Reticular veins are small, twisted veins similar to varicose veins, but they are typically smaller in size and less visible. They can appear on the legs, thighs, or ankles and are usually blue, purple, or flesh-colored. Like varicose veins, reticular veins are caused by chronic venous insufficiency, a condition in which the veins have difficulty carrying blood back to the heart.
One of the main differences between reticular veins and varicose veins is size. Varicose veins are typically larger and more visible than reticular veins. Varicose veins also tend to be more painful and cause more serious health problems if left untreated. Varicose veins are essentially more dilated blood vessels.
Sclerotherapy is a common treatment for reticular veins. It involves injecting a sclerosant solution into the affected vein, which causes the vein to scar and close. The blood is then redirected to healthy veins, and the treated vein is absorbed by the body over time. Sclerotherapy is one of the best treatments for reticular veins and small varicose veins because it's safe, simple, painless, and extremely effective.
CA Vein Doctors

Meet our team of California Vein Treatment Specialists
Vein Treatments are covered by most major medical insurances, including Medicare. Call us today to verify your insurance for FREE >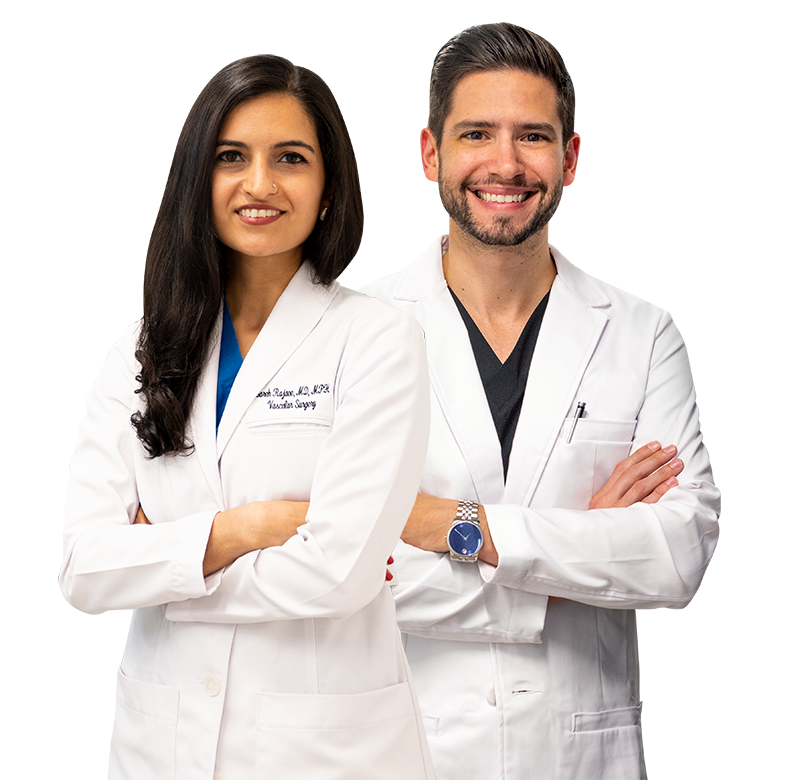 CALL US
Speak instantly with one of our team members; they will answer any questions you may have regarding insurance coverage, booking an appointment and our vein treatment locations. (858) 800-8772

BOOK APPOINTMENT
Visit our Book Appointment page and instantly request an appointment at the California vein Tretment. We offer Free Insurance Verification before your appointment.

GET DIRECTIONS
Learn how to get to one of our California vein centers in San Diego & San Jose