Effective, Minimally Invasive Treatment for Varicose Veins: A Comprehensive Guide
If you're struggling with varicose veins, you're not alone. These swollen and twisted veins affect millions of people, causing discomfort, pain, and aesthetic concerns. However, with the right treatment, you can find relief and regain confidence in your legs. At California Vein Treatment, our board-certified vein doctors specialize in minimally invasive procedures that target the root cause of varicose veins and spider veins. We explore the various treatment options available, symptoms to watch out for, and how our medical centers can help you.
Understanding Varicose Veins and Spider Veins
Varicose veins and spider veins are two common vascular conditions that affect the legs. Varicose veins are enlarged, bulging veins that typically appear blue or purple. They are caused by weakened or damaged valves in the veins, which disrupts the normal blood flow and leads to pooling. Spider veins, on the other hand, are smaller, web-like veins that are often red or blue in color. They can be caused by various factors, including genetics, hormonal changes, pregnancy, and prolonged periods of sitting or standing.
Symptoms of Varicose Veins:
Visible swollen and twisted veins, usually blue or purple in color
Aching or throbbing pain in the legs, especially after prolonged periods of sitting or standing
Leg cramps or a feeling of heaviness in the affected area
Itching or a burning sensation around the varicose veins
Swelling, particularly in the ankles and feet
Restless legs, characterized by an uncontrollable urge to move the legs
Skin discoloration or skin ulcers near the varicose veins, in severe cases
Bleeding from varicose veins due to minor injuries or trauma
Increased discomfort during warm weather or after prolonged physical activity
Progression of symptoms over time, with veins becoming larger and more prominent
Treatment Options for Varicose Veins
At California Vein Treatment, we offer a range of minimally invasive treatment options tailored to your specific needs. Our board-certified vein doctors will carefully evaluate your condition and recommend the most effective treatment plan. Here are some common procedures we perform:
Treatment Options for Varicose Veins:
Sclerotherapy: Sclerotherapy is a widely used and effective treatment for both spider veins and smaller varicose veins. During the procedure, a specialized solution is injected directly into the affected veins. This solution irritates the vein walls, causing them to collapse and eventually fade away. Sclerotherapy is a minimally invasive treatment that typically requires multiple sessions for optimal results.
Foam Sclerotherapy: Foam sclerotherapy is a variation of traditional sclerotherapy. Instead of using a liquid solution, a foam mixture is created by combining a sclerosant with air or gas. The foam has a greater contact area with the vein walls, allowing for more efficient treatment of larger varicose veins. Foam sclerotherapy is often preferred for veins that are larger or located deeper beneath the skin's surface.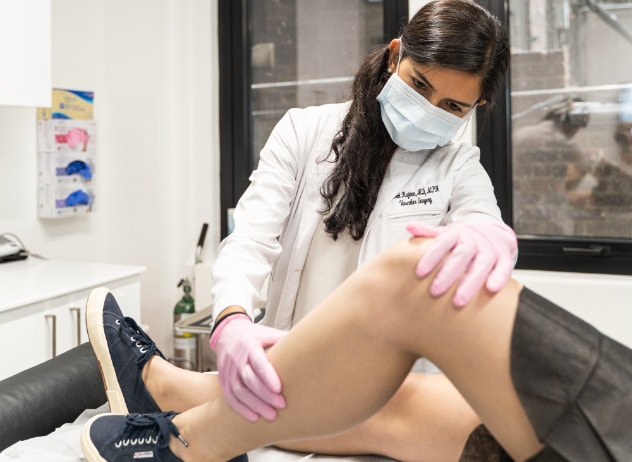 3. Endovenous Laser Ablation (EVLA): Endovenous laser ablation, also known as endovenous laser treatment (EVLT), is a minimally invasive procedure that uses laser energy to treat varicose veins. A small incision is made, and a thin laser fiber is inserted into the affected vein. The laser emits heat, which causes the vein to collapse and seal shut. Blood flow is then rerouted to healthier veins, relieving symptoms.
4. Radiofrequency Ablation (RFA): Radiofrequency ablation is another minimally invasive procedure used to treat varicose veins. Similar to EVLA, a small incision is made, and a catheter is inserted into the vein. The catheter delivers radiofrequency energy, which heats the vein and causes it to collapse. As a result, blood flow is redirected to healthier veins.
5. VenaSeal: VenaSeal is a relatively new treatment option for varicose veins that utilizes a medical adhesive to close off the affected vein. During the procedure, a small catheter is inserted into the vein, and the adhesive is injected. The adhesive seals the vein, preventing blood from flowing through it. VenaSeal does not require the use of heat or tumescent anesthesia, and patients can immediately return to their regular activities.
6. ClariVein: ClariVein is a specialized treatment that combines mechanical and chemical methods to treat varicose veins. A small catheter with a rotating tip is inserted into the vein, and a sclerosant is simultaneously infused while the catheter is slowly withdrawn. The rotation of the catheter helps disperse the sclerosant, ensuring even distribution within the vein. ClariVein is a safe and effective option for treating varicose veins.
7. Ambulatory Phlebectomy: Ambulatory phlebectomy, also known as microphlebectomy, is a surgical procedure used to remove superficial varicose veins through tiny incisions. After administering local anesthesia, small punctures are made along the affected vein. The vein is then gently removed using a special hook. Ambulatory phlebectomy is often performed in conjunction with other treatments to remove larger varicose veins.
Benefits of Minimally Invasive Treatments:
Quick and virtually painless procedures
No hospitalization required; treatments are performed in our medical centers
Minimal downtime, allowing you to resume daily activities almost immediately
Effective results with a significant reduction in symptoms and visible veins
Lower risk of complications compared to traditional surgical procedures
Local anesthesia is typically sufficient, avoiding the need for general anesthesia
Small incisions or injections result in minimal scarring or bruising
Minimally invasive treatments are performed on an outpatient basis
Treatment plans are tailored to your specific needs for personalized care
Improved self-confidence and self-esteem as visible veins fade away
Long-term results with proper post-treatment care and lifestyle modifications
Continuity of care with follow-up appointments to monitor progress and address any concerns.
Visit Our Medical Centers for Vein Treatment
California Vein Treatment has two conveniently located medical centers in California to serve you. Our clinic in the picturesque neighborhood of La Jolla is close to Torrey Pines beach state park and the Westfield UTC shopping center. Located near Palo Alto, Sunnydale, and Santa Clara, our San Jose clinic is in proximity to the Santa Clara Medical Center.
When you choose California Vein Treatment, you can expect:
Expertise: Our medical centers are led by board-certified vein doctors with extensive experience in diagnosing and treating varicose veins and spider veins.
Personalized Care: We understand that each patient is unique, which is why we provide individualized treatment plans tailored to your specific needs.
Insurance Verification: Before your first appointment, we offer free insurance verification to ensure a smooth and hassle-free experience.
If varicose veins are affecting your quality of life, it's time to take action. At California Vein Treatment, our board-certified vein doctors specialize in minimally invasive procedures that effectively target the root cause of varicose veins and spider veins. Don't let discomfort and aesthetic concerns hold you back—schedule a consultation to regain healthy and beautiful legs.
CA Vein Doctors

Meet our team of California Vein Treatment Specialists
Vein Treatments are covered by most major medical insurances, including Medicare. Call us today to verify your insurance for FREE >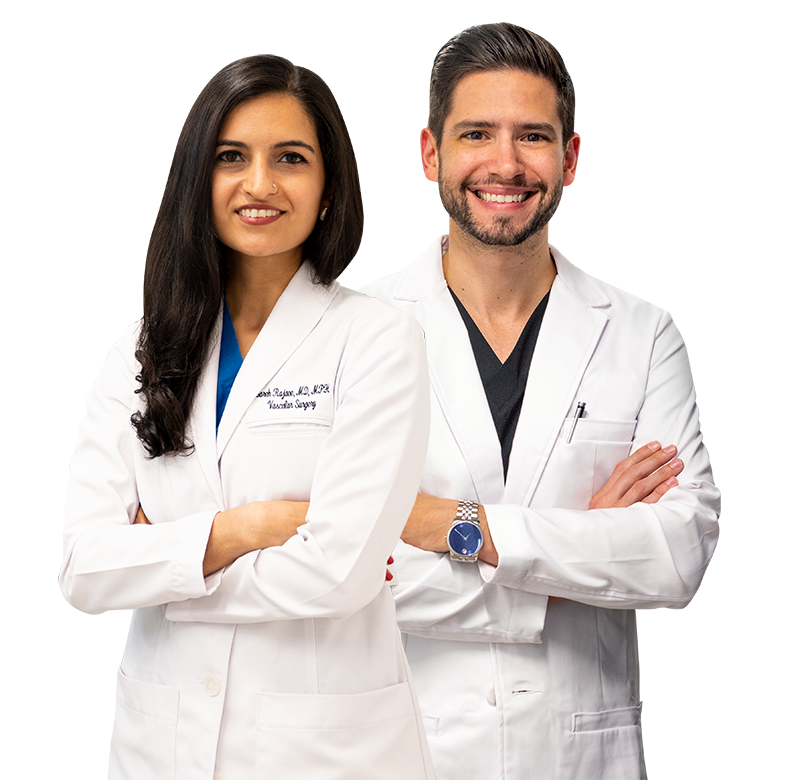 CALL US
Speak instantly with one of our team members; they will answer any questions you may have regarding insurance coverage, booking an appointment and our vein treatment locations. (858) 800-8772

BOOK APPOINTMENT
Visit our Book Appointment page and instantly request an appointment at the California vein Tretment. We offer Free Insurance Verification before your appointment.

GET DIRECTIONS
Learn how to get to one of our California vein centers in San Diego & San Jose