Discovering the Best Vein Clinic Near You in California for Effective Treatment
Are you experiencing discomfort or insecurity due to varicose veins or spider veins? Finding a reliable and professional vein clinic is crucial to address these concerns and regain your confidence. At California Vein Treatment, we specialize in advanced and minimally invasive vein treatments, led by our team of highly skilled and board-certified vein doctors. With cutting-edge techniques, we are dedicated to providing exceptional care and helping you achieve healthy legs. We guide you through the process of finding the best vein clinic near you in California.
Understanding Varicose Veins and Spider Veins
Varicose veins and spider veins are often caused by a condition called chronic venous insufficiency (CVI), where the valves in the veins become weakened or damaged, leading to inefficient blood flow. Prompt treatment is essential to address these issues.
Varicose veins, characterized by their enlarged and twisted appearance, commonly develop in the legs. They can cause a range of symptoms, including pain, aching, swelling, heaviness, and fatigue. In some cases, they may even lead to skin changes such as discoloration, ulcers, or bleeding. Not only can varicose veins cause physical discomfort, but they can also have a significant impact on a person's self-esteem and body image.
Spider veins, smaller in size compared to varicose veins, appear as red or blue webs on the skin's surface. Spider veins are found on the legs, face, and other parts of the body. While they are usually harmless and do not cause physical discomfort, they can be a cosmetic concern. However, in some cases, they can also be indicative of chronic venous insufficiency. While spider veins aren't harmful, underlying vein disease is certainly dangerous.
Why Seek Expert Vein Care?
When seeking a vein clinic, it is crucial to find specialists who offer comprehensive and effective treatments. At California Vein Treatment, we understand the impact that vein issues can have on your quality of life. That's why we employ state-of-the-art techniques including endovenous laser ablation, ambulatory phlebectomy, sclerotherapy, radiofrequency ablation, and venaseal. These minimally invasive procedures are designed to target the underlying causes of vein issues while minimizing discomfort, scarring, and downtime. By choosing a clinic with expertise in vein treatments, you can expect superior outcomes and a positive patient experience.
The Importance of Board-Certified Vein Doctors
The qualifications and expertise of the medical professionals at a vein clinic are paramount. At California Vein Treatment, our medical centers are staffed by board-certified vein doctors who have undergone extensive training and possess in-depth knowledge of vein diseases and their treatments. Our vein doctors' expertise ensures that you receive the highest standard of care and personalized treatment plans tailored to your unique needs. With their specialized knowledge and experience, they can accurately diagnose the root cause of your vein issues and recommend the most appropriate treatment options.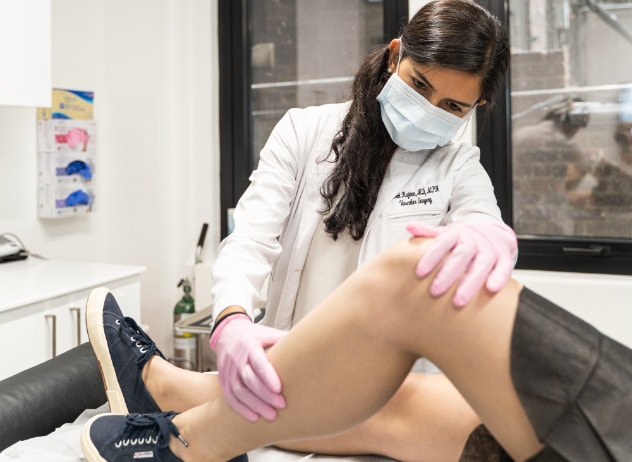 Comprehensive Diagnostic Process
To provide optimal and personalized treatment, we prioritize a comprehensive diagnostic process. Through the use of duplex ultrasound, our vein specialists can accurately visualize the blood flow in your veins, identify any abnormalities, and assess the overall health of your venous system. This non-invasive imaging technique allows us to diagnose the underlying causes of your varicose veins or spider veins effectively. By understanding the root cause of your vein issues, we can create a personalized treatment plan to effectively address your specific needs and provide long-lasting results.
Free Insurance Verification
At California Vein Treatment, we understand the importance of insurance coverage for medical treatments. We strive to make the process easier for our patients by offering free insurance verification services even before your first appointment. Our dedicated team will work with your insurance provider to determine your coverage and help you understand your benefits. We accept a wide range of insurance plans, ensuring you can access the care you need without worrying about the financial aspect.
Perfect Track Record & 5-Star Ratings:
At California Vein Treatment, we take great pride in our perfect track record and exceptional patient satisfaction. Our commitment to delivering top-notch care has earned us numerous 5-star ratings and positive reviews from our patients. We prioritize building a strong doctor-patient relationship and ensuring that each individual receives personalized attention and comprehensive treatment. Our vein doctors' expertise, combined with our state-of-the-art facilities and advanced techniques, have consistently garnered praise from our patients.
San Diego, La Jolla: Our clinic in La Jolla is in a beautiful neighborhood near the Torrey Pines beach state park. This location offers a serene and relaxing environment, allowing you to experience a sense of tranquility throughout your treatment. The Westfield UTC shopping center is nearby, providing a variety of dining and shopping options for your convenience.
San Jose, Bay Area: Our San Jose clinic is located in a picturesque neighborhood, close to Palo Alto, Sunnydale, and Santa Clara. It is conveniently situated just down the block from the Santa Clara Medical Center and the Santana Row Shopping Mall. With easy access and ample parking, your journey to healthy legs becomes even more convenient.
When seeking effective and personalized care for your varicose veins or spider veins, California Vein Treatment is your ideal choice. Our team of highly skilled and board-certified vein doctors, along with our commitment to utilizing cutting-edge techniques, ensures that you receive the best possible care and achieve optimal outcomes.
Take the first step towards healthier and more beautiful legs by visiting our conveniently located clinics in San Diego or San Jose. Contact us today for a free insurance verification, and let us guide you on your journey to vein health, pain relief, and renewed confidence. Trust us to provide the compassionate care you deserve, and regain your comfort and self-assurance.
CA Vein Doctors

Meet our team of California Vein Treatment Specialists
Vein Treatments are covered by most major medical insurances, including Medicare. Call us today to verify your insurance for FREE >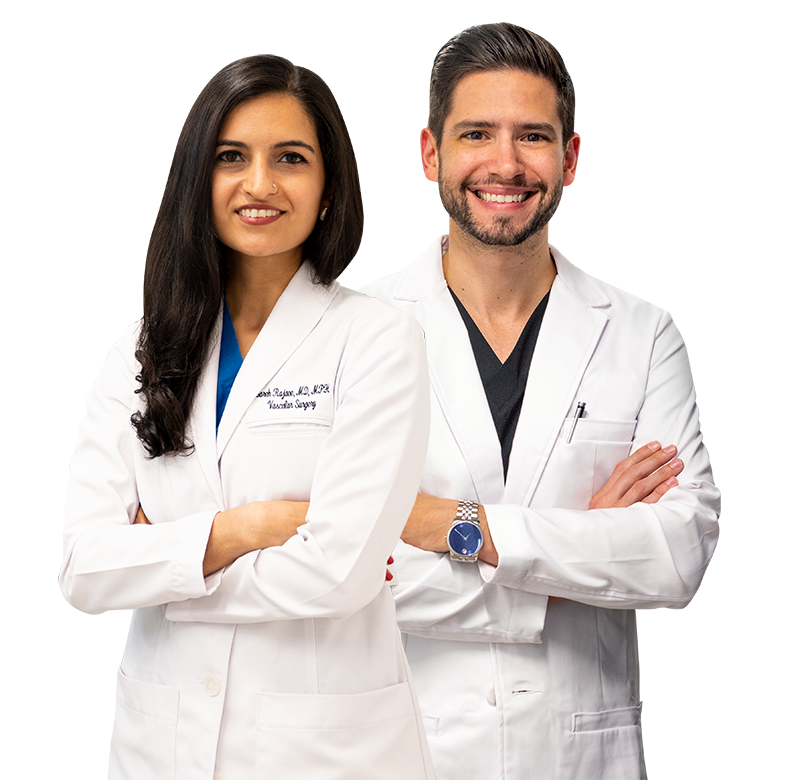 CALL US
Speak instantly with one of our team members; they will answer any questions you may have regarding insurance coverage, booking an appointment and our vein treatment locations. (858) 800-8772

BOOK APPOINTMENT
Visit our Book Appointment page and instantly request an appointment at the California vein Tretment. We offer Free Insurance Verification before your appointment.

GET DIRECTIONS
Learn how to get to one of our California vein centers in San Diego & San Jose