What Causes Venous Insufficiency?
Venous insufficiency is a condition that occurs when the blood vessels in the legs, particularly the veins, fail to properly circulate blood back to the heart. Instead, blood pools in the lower leg, causing a range of symptoms and complications. In this article, we will discuss the causes of venous insufficiency, its symptoms, and effective treatment options.
What is Venous Insufficiency?
Venous insufficiency occurs when there is an impaired function of the venous system in the legs. The veins in the legs are responsible for transporting deoxygenated blood back to the heart. This is achieved through the action of one-way valves present in the veins. These valves prevent the backward flow of blood and ensure that blood flows in the correct direction.
When these valves become damaged or weakened, they are unable to perform their function efficiently. As a result, blood can flow backward and accumulate in the lower leg, leading to a condition known as venous insufficiency. The pooling of blood in the legs can cause a range of symptoms, including leg swelling, skin changes, varicose veins, and leg ulcers.
The root cause of venous insufficiency can vary, with some cases resulting from genetics, while others are caused by lifestyle factors such as a sedentary lifestyle or obesity. Effective treatment options are available to manage the symptoms of venous insufficiency, and it is essential to seek medical attention if you experience any of the symptoms associated with this condition.
Causes of Venous Insufficiency:
Damaged Valves in the Veins: The valves in the veins are crucial for maintaining healthy blood flow. When the valves become damaged, they can no longer function properly, causing blood to pool in the lower leg. This can result from age-related changes, trauma, or medical conditions that affect the structure and function of the veins.
Blood Clots: Blood clots can form in the veins, obstructing the flow of blood and causing the veins to become damaged. This is known as deep vein thrombosis (DVT) and is a potentially life-threatening condition that requires prompt medical attention.
Sedentary Lifestyle: Sitting or standing for long periods of time can lead to venous insufficiency, as it puts pressure on the veins and hinders blood flow. This is especially true if you have an occupation that requires you to be sedentary for extended periods of time, such as a desk job or long-haul travel.
Obesity: Being overweight puts additional pressure on the veins in the legs, which can lead to venous insufficiency. Additionally, excess weight can contribute to other factors that increase the risk of developing this condition, such as poor circulation and inflammation.
Family History: If you have a family history of venous insufficiency, you may be at a higher risk of developing the condition. Genetic factors can influence the structure and function of the veins, making some individuals more susceptible to venous insufficiency than others.
Pregnancy: Pregnant women are at an increased risk of developing venous insufficiency due to the increased pressure on the veins in the pelvis and legs. Additionally, hormonal changes during pregnancy can weaken the vein walls and valves, making them more prone to damage.
Age: As we age, the valves in our veins may become weaker or damaged, leading to venous insufficiency. Additionally, age-related changes in the veins themselves can make them less efficient at returning blood to the heart, further increasing the risk of developing this condition.
Medical History: Certain medical conditions can increase the risk of developing venous insufficiency, including heart disease, kidney disease, and autoimmune disorders. Additionally, previous surgeries or injuries to the legs can damage the veins and contribute to this issue.
Symptoms of Venous Insufficiency
The symptoms of venous insufficiency can vary from mild to severe, depending on the extent of the damage to the veins. Common symptoms include:
Swollen legs: One of the most common symptoms of venous insufficiency is leg swelling. This is caused by the pooling of blood in the lower leg.
Leg pain and cramps: You may experience pain or cramps in your legs, particularly at night or after prolonged periods of sitting or standing.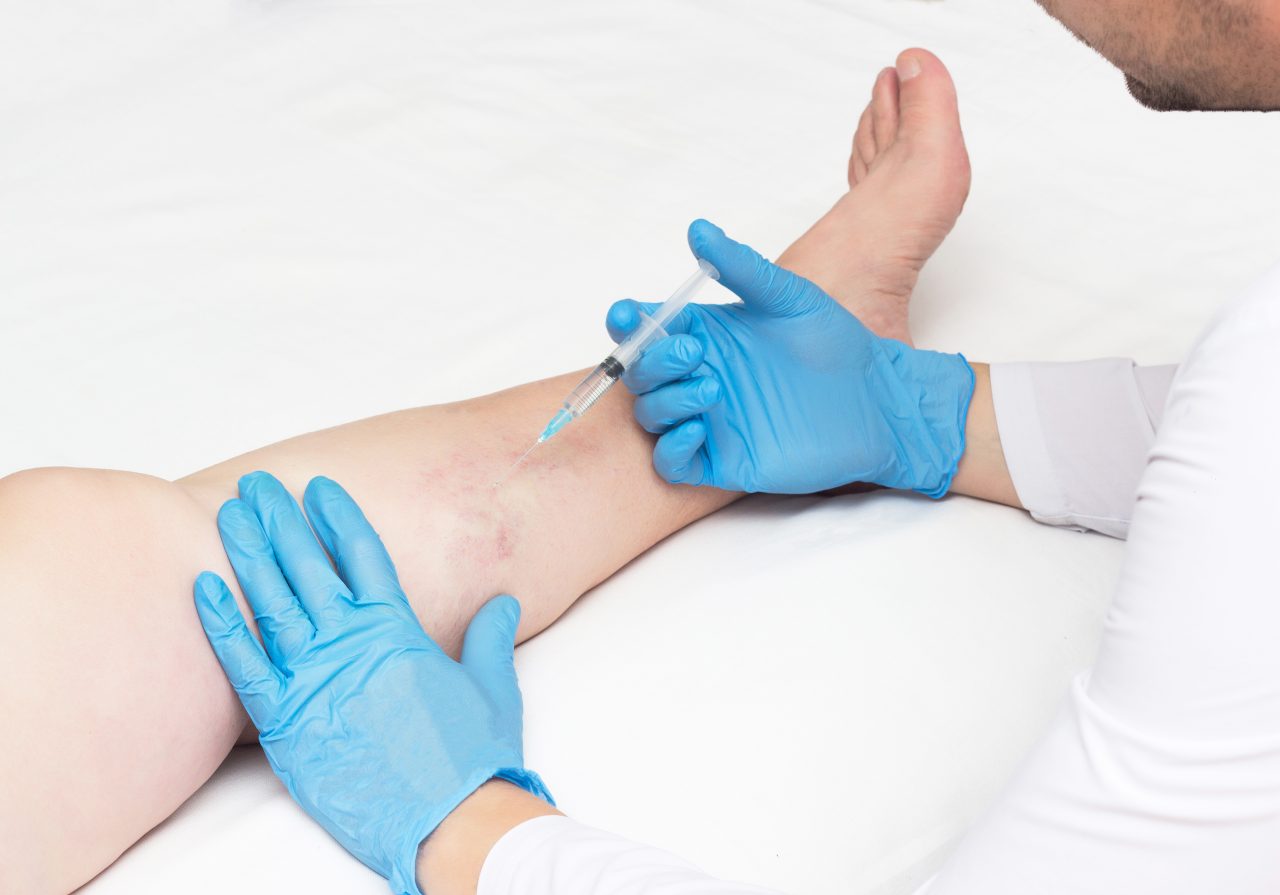 Skin changes: Venous insufficiency can cause changes to the skin on your legs, including darkening, dryness, and thickening.
Varicose veins: Varicose veins are enlarged, twisted veins that are visible on the surface of the skin. They are a common symptom of chronic venous insufficiency.
Leg ulcers: In severe cases, venous insufficiency can lead to the development of leg ulcers. These are open sores that can take a long time to heal.
Treatment Options for Venous Insufficiency
​At California Vein Treatment, we offer minimally invasive treatments for venous insufficiency, such as sclerotherapy, endovenous laser ablation, radiofrequency ablation, venaseal, and ambulatory phlebectomy. However, before we curate a personalized treatment plan, we always diagnose the root cause of spider veins and varicose veins via duplex ultrasound.
Lifestyle changes: One of the most effective ways to manage venous insufficiency is by making lifestyle changes. Exercise regularly to improve blood flow in the veins, avoid sitting or standing for long periods, and wear compression stockings.
Medications: Certain medications can help manage the symptoms of venous insufficiency, such as diuretics to reduce leg swelling, or blood thinners to prevent blood clots from forming.
Minimally invasive proceduresL If lifestyle changes and medication do not provide adequate relief, minimally invasive procedures may be recommended. At California Vein Treatment, we offer a range of options for the treatment of venous insufficiency.
Sclerotherapy is a procedure that involves injecting a solution into the affected vein, causing it to collapse and be absorbed by the body. Endovenous laser ablation and radiofrequency ablation use heat to close off the affected vein, redirecting blood flow to healthy veins. Venaseal involves the use of a medical adhesive to seal off the vein, and ambulatory phlebectomy involves the removal of the affected vein through small incisions.
Each of these procedures is minimally invasive, meaning they do not require general anesthesia and have a short recovery time. They are also highly effective at treating the root cause of venous insufficiency and improving blood flow in the affected veins.
Find Your Nearest California Vein Treatment Office
California Vein Treatment has multiple locations across California, including San Diego and San Jose. Our clinic in La Jolla is located in a beautiful neighborhood near the Torrey Pines beach state park, while our clinic in San Jose is down the block from the Santa Clara Medical Center. If you are experiencing symptoms of venous insufficiency, our board-certified vein doctors can provide a personalized treatment plan to address your specific needs. Contact us today to schedule a consultation and take the first step towards healthier veins.
CA Vein Doctors

Meet our team of California Vein Treatment Specialists
Vein Treatments are covered by most major medical insurances, including Medicare. Call us today to verify your insurance for FREE >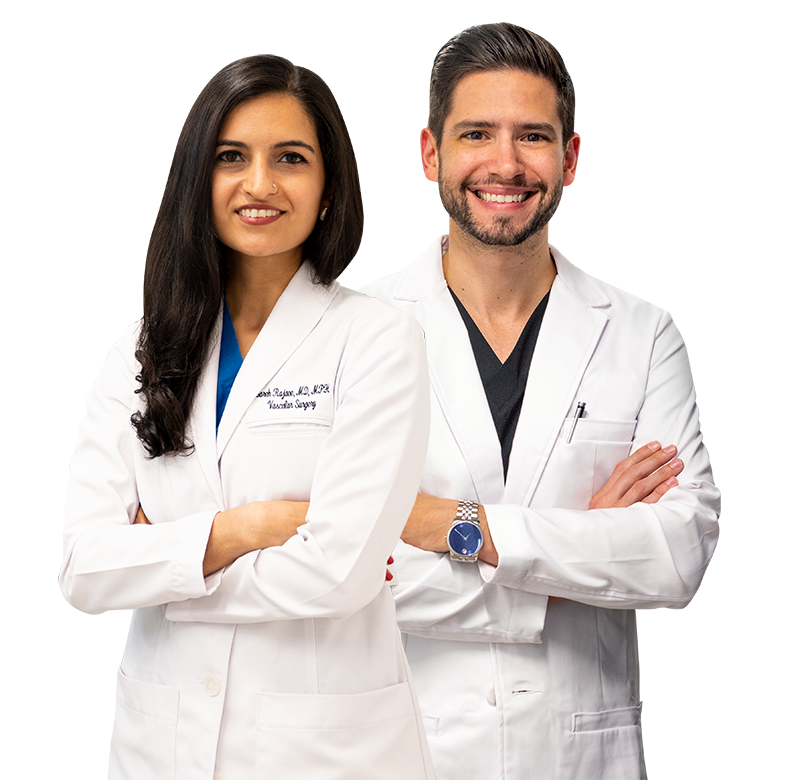 CALL US
Speak instantly with one of our team members; they will answer any questions you may have regarding insurance coverage, booking an appointment and our vein treatment locations. (858) 800-8772

BOOK APPOINTMENT
Visit our Book Appointment page and instantly request an appointment at the California vein Tretment. We offer Free Insurance Verification before your appointment.

GET DIRECTIONS
Learn how to get to one of our California vein centers in San Diego & San Jose