What is a Varicose Vein Specialist Called?
What is a varicose vein specialist called?
The official medical terminology for a varicose vein specialist is a "phlebologist." The name comes from "phlebology," which is defined as the branch of medicine concerned with the prevention, diagnosis, and treatment of vascular conditions, such as varicose veins, spider veins, and chronic venous insufficiency. As such, vein and vascular specialists must diagnose and treat varicose veins and their root cause.
Vein and vascular specialists come from numerous fields of medicine, such as anesthesiology, cardiology, dermatology, and more. Vein doctors can claim the title of "phlebologist" after undergoing specific training for the diagnosis and treatment of vein disease and after passing a written examination. However, the barrier for entry into phlebology is pretty low, and lots of inexperienced vein doctors don't specialize in minimally invasive vein treatments.
As such, you must find vein doctors in CA who truly specialize in minimally invasive spider and varicose vein treatments. Our vein treatment centers in San Diego and San Jose are led by ABMS board-certified vein doctors with specialized training in the latest diagnosis and treatment methodologies. If you have spider and varicose veins, please schedule an appointment at our vein treatment clinics in California.
How can I find the best vein doctor in CA?
You must consider several essential qualities when looking for the best vein doctor in CA. Because of the relative simplicity of minimally invasive vein treatments, lots of inexperienced vein and vascular specialists offer vein treatments. As such, seeking vein treatments at the wrong medical center may increase the risk of complications or recurrence. Below, we highlight the factors to consider when looking for vein and vascular specialists.
Excellent Credentials
You must look for vein doctors with excellent credentials. They should have graduated from reputable medical schools, such as Harvard Medical School and Yale Medical School. They should have also completed prestigious residency programs and fellowship training in subjects related to the diagnosis and treatment of vein disease. They should ideally have specific training for minimally invasive spider and varicose vein treatments.
Board Certification
The American Board of Venous and Lymphatic Medicine officially certifies the country's leading vein doctors after they pass a series of challenging requirements and tests. Furthermore, they must stay abreast of the latest developments in vein treatments to retain their certification. As such, ABVLM board-certified vein and vascular specialists and some of the best vein doctors in the country. Please look for the words "board-certified" when looking for vein doctors.
Perfect Track Record
You should ideally look for vein doctors with perfect track records. Verifying the vein doctor's track record isn't as hard as you might think. You can simply enter the vein doctor's name or their vein clinic's name on Google to access their listings. You can gauge their patient testimonials to ensure they have 5-star ratings and reviews on all platforms, including Google, Facebook, and Real Self.
Minimally Invasive Treatments
You should only work with vein and vascular specialists providing minimally invasive vein treatments instead of varicose vein surgery. Minimally invasive spider and varicose vein treatments are in-office and outpatient procedures that conclude within an hour with no downtime and negligible risk of complications. As such, they're extremely effective and convenient — you can resume your daily activities and work immediately.
Insurance Verification
You should find vein doctors who accept all major insurance plans, including Medicare and provide free insurance verification. The vein doctor's vein center must provide free insurance verification even before your appointment, so you receive a complete overview of your treatment costs before the procedure. This allows you to proceed with the treatment with complete mental clarity. In most cases, varicose vein treatments are covered by most insurance plans, so you must insist on insurance verification.
Excellent Bedside Manners
Finally, you must find vein doctors with excellent bedside manners. You may think the vein doctor's bedside manners don't matter, but that's not true. Vein specialists who carefully listen to your symptoms and discuss your medical history are more likely to identify clues that help them curate the ideal treatment plan for you, thus helping you avoid harsh side effects. Furthermore, they also ensure your physical and emotional comfort.
When should I consult a vein and vascular specialist?
You should consult a vein and vascular specialist if you have spider veins, varicose veins, or any of the signs and symptoms of chronic venous insufficiency, the root cause of most vein problems. Venous insufficiency, the main cause of varicose veins, is a circulatory disorder wherein the vein valves collapse, and blood flows backward to accumulate in the leg veins. The continued accumulation of blood in leg veins leads to vascular dilation, spider veins, and varicose veins,
You should ideally consult vein doctors when you notice the earliest signs and symptoms of vein disease — the symptoms will only worsen with time if left untreated. The earliest symptoms of vein disease include leg heaviness, leg swelling, frequent leg cramps, restless leg syndrome, leg pain, spider veins, and varicose veins. Long-term complications of chronic venous insufficiency include skin discoloration, leg ulcers, and deep vein thrombosis (blood clots in leg veins).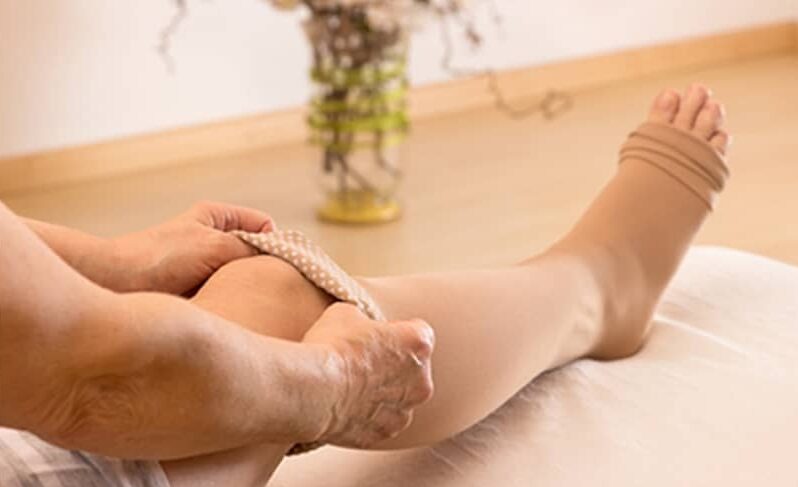 How can I stop varicose veins from progressing?
Varicose veins are essentially dilated blood vessels that protrude out of the skin's surface because of excessive blood accumulation. The only way to treat varicose veins is to address the underlying vein disease, followed by the removal of superficial varicose veins. However, you can make some lifestyle changes to stop varicose veins from progressing further or at least slow it down.
The following tips may help slow down the progression of varicose veins:
Wear compression stockings

Engage in cardiovascular exercises that engage your calf muscles — running, swimming, walking, cycling, yoga

Elevate your legs above your heart's level while sitting

Avoid sitting or standing still for long periods — take short walking breaks
CA Vein Doctors

Meet our team of California Vein Treatment Specialists
Vein Treatments are covered by most major medical insurances, including Medicare. Call us today to verify your insurance for FREE >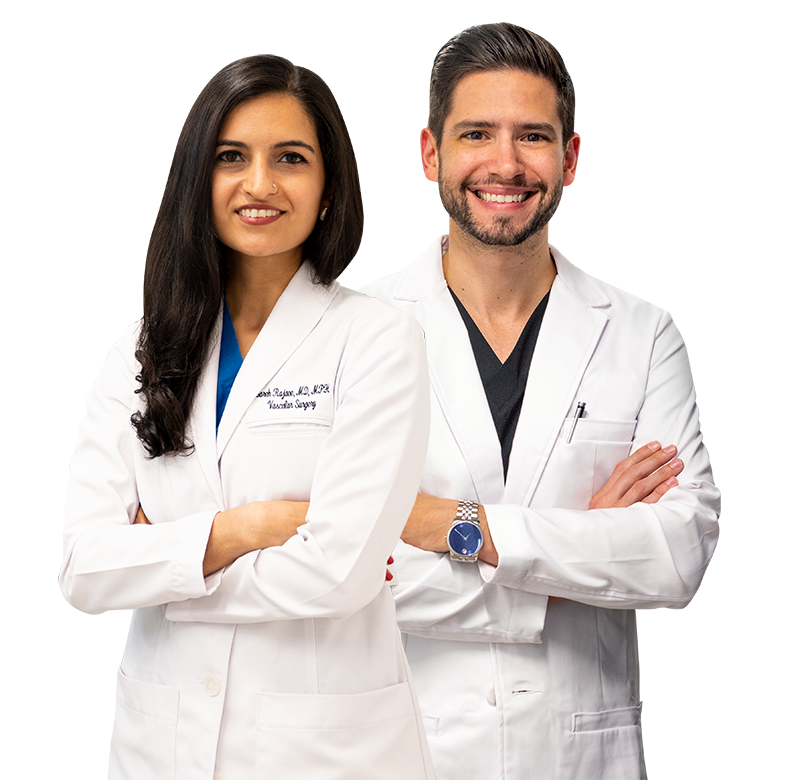 CALL US
Speak instantly with one of our team members; they will answer any questions you may have regarding insurance coverage, booking an appointment and our vein treatment locations. (858) 800-8772

BOOK APPOINTMENT
Visit our Book Appointment page and instantly request an appointment at the California vein Tretment. We offer Free Insurance Verification before your appointment.

GET DIRECTIONS
Learn how to get to one of our California vein centers in San Diego & San Jose