What is a Vascular Surgeon Called? And Other FAQs
What is a vascular surgeon called?
A vascular doctor is officially known as a phlebologist. The word phlebologist comes from phlebology, which is the branch of science concerned with the diagnosis and treatment of all vascular problems, such as spider veins, varicose veins, chronic venous insufficiency, and deep vein thrombosis. Even though phlebologist is the official term for a vascular doctor, most people refer to them as vein doctors, vein specialists, or vein physicians.
Vein doctors can come from all fields of medicine. They can be dermatologists, cardiologists, anesthesiologists, hospitalists, or more. To become a vein doctor, a physician must complete a few written examinations and tests. The bar for entry into phlebology is fairly low, and so the field is full of inexperienced vein doctors without the specific skills necessary to treat vein conditions. If you're looking for a vein doctor, you must find board-certified and fellowship-trained vascular surgeons.
The California Vein Treatment Center is led by highly-skilled board-certified vein doctors specializing in the latest, cutting-edge vein treatments. Our vein doctors are individually selected from the country's leading medical schools, residency programs, and fellowships. They curate personalized vein treatment plans according to your unique needs, and they only provide minimally invasive spider and varicose vein treatments that address the root cause of your problems, not the superficial symptoms.
Is a vascular doctor the same as a cardiologist?
A vascular doctor isn't the same as a cardiologist. A vascular doctor is responsible for the diagnosis and treatment of all vascular conditions, such as spider veins, varicose veins, and chronic venous insufficiency. They look into all problems associated with the circulatory system. But cardiologists look at all problems associated with the heart, such as peripheral arterial disease or carotid arteries. However, cardiologists generally have a sophisticated understanding of the veins and circulatory system, so you can also contact reliable cardiologists for your vein problems.
How serious is vascular surgery?
Vascular surgery is an extremely serious procedure. Numerous surgical techniques fall under the umbrella of vascular surgery, including vein stripping, vein ligation, and venous bypass surgery. During vascular surgeries, vein doctors create multiple excisions, use numerous complex techniques to remove unhealthy veins, and suture the incisions closed. Vascular surgeries are generally performed under general anesthesia, and they involve hospitalization, harsh side effects and complications, and extended downtime. Vascular surgery may have been suitable for vein treatments in the past, but they're now considered obsolete.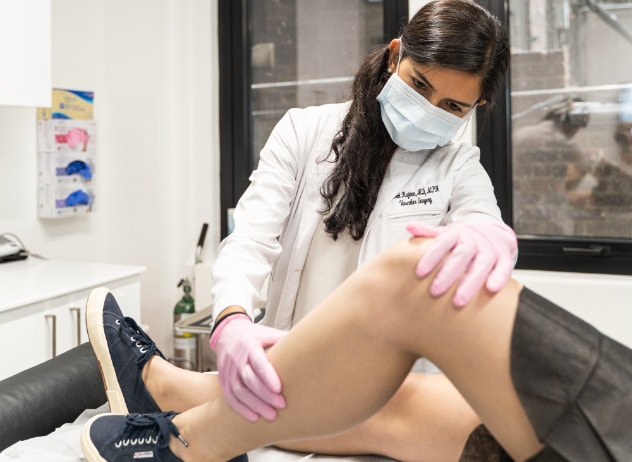 Instead of vascular surgery, you must find vein doctors specializing in minimally invasive spider vein and varicose vein treatments. Minimally invasive vein treatments are in-office and outpatient procedures that conclude within an hour and involve no downtime. They're usually performed within the vein doctor's office under local anesthesia and involve a few injections or small incisions. The risk of complications is negligible. Furthermore, minimally invasive vein treatments carry a lower risk of recurrence.
The following are the benefits of minimally invasive vein treatments over vascular surgery:
They're safer than vascular surgery.
They involve a few injections or small incisions — not multiple excisions.
They're performed under local anesthesia — not general anesthesia.
They address the root cause of your spider veins and varicose veins.
They involve no harsh side effects or complications.
They cause little to no pain or discomfort.
They conclude within an hour.
They involve no downtime.
What are the symptoms of vascular problems?
To understand the symptoms of vascular problems, you must understand chronic venous insufficiency, the root cause of most vein problems. Venous insufficiency is a circulatory disorder wherein the collapse of vein valves leads to backward blood circulation and the accumulation of blood in leg veins. As more blood accumulates in the leg veins, new varicose veins and spider veins form on the skin's surface. Venous insufficiency prevents effective blood circulation, leading to numerous symptoms and complications.
The earliest signs and symptoms of vein disease are fairly benign and easily misattributed to aging. The earliest symptoms of vascular problems include leg heaviness, restless leg syndrome, frequent leg cramps, leg swelling, leg pain, and spider veins. The symptoms of vein disease usually worsen at the end of the day or after long periods of sitting or standing still. As more blood continues accumulating in the leg veins, your varicose veins may dilate further, leading to a high risk of profuse bleeding.
Other potential complications of untreated vein disease include leg ulcers, skin discolored, and deep vein thrombosis. Over time, the accumulated blood in the leg veins may turn into blood clots that break away and travel to the lungs, leading to a potentially fatal pulmonary embolism. You must identify the signs and symptoms of vascular problems at the easiest stage possible — the earlier you seek treatment, the better.
What is the success rate of vascular surgery?
Vascular surgery has a success rate of approximately 85%, which might be good, but it's significantly lower than the success rate of minimally invasive procedures. The best minimally invasive spider vein and varicose vein treatments have success rates exceeding 97%, so they're nearly always successful. You should only consider minimally invasive treatments for your spider veins and varicose veins.
Is vein treatment covered by insurance?
Vein treatment is generally covered by insurance plans if it's considered to be medically necessary. Most insurance plans cover vein treatments if you have underlying chronic venous insufficiency or if you have symptoms that prevent daily activities. Our vein doctors provide free insurance verification to help you determine if your treatment is covered by your insurance plans. Please schedule an appointment to claim free insurance verification today.
CA Vein Doctors

Meet our team of California Vein Treatment Specialists
Vein Treatments are covered by most major medical insurances, including Medicare. Call us today to verify your insurance for FREE >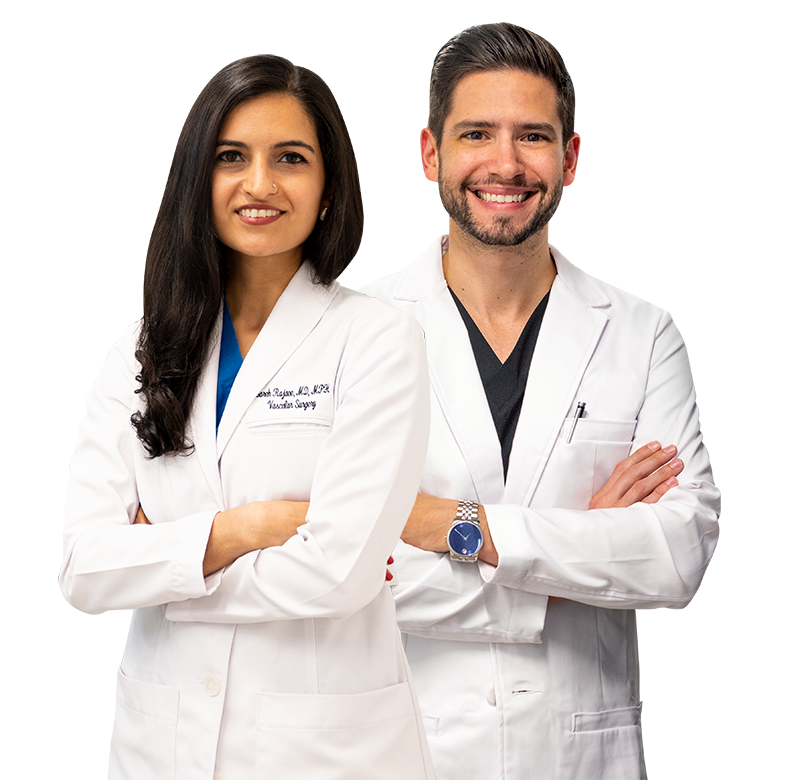 CALL US
Speak instantly with one of our team members; they will answer any questions you may have regarding insurance coverage, booking an appointment and our vein treatment locations. (858) 800-8772

BOOK APPOINTMENT
Visit our Book Appointment page and instantly request an appointment at the California vein Tretment. We offer Free Insurance Verification before your appointment.

GET DIRECTIONS
Learn how to get to one of our California vein centers in San Diego & San Jose