What is the Treatment for Varicose Veins? We Answer Common Vein FAQs
What is the treatment for varicose veins?
Varicose veins are dense, large blood vessels that protrude out of the skin's surface. People often describe varicose veins as dense masses of tangled ropes or tree branches. They're usually caused by chronic venous insufficiency, a circulatory disorder wherein the collapse of vein valves leads to the accumulation of blood in leg veins. In healthy veins, the valves act as one-way doors to ensure blood circulation towards the heart, so their collapse allows blood to flow backward and pool in the leg veins, leading to varicose veins.
The ideal treatment process for varicose veins is to diagnose and treat the root cause, i.e., chronic venous insufficiency. However, some vein doctors only remove the superficial varicose veins without addressing the root cause, leading to a high risk of recurrence. Each vein treatment center has a unique vein treatment process, and we can't speak for all of them. However, we follow a comprehensive, personalized, and minimally invasive vein treatment plan that ensures optimal and long-lasting results. Below, we describe the treatment for varicose veins at our vein treatment centers in California.
Step 1: Diagnosing the root cause of varicose veins
Your treatment for varicose veins starts with an initial consultation with our vein doctors. During your appointment, the front desk team will collect your information, including your symptoms and medical history, and lead you to the vein specialist. The vein doctor will review your medical history and symptoms and examine your leg veins. The physical examination allows the vein doctor to determine the likelihood of chronic venous insufficiency.
After the physical examination, the vein doctor administers an ultrasound scan known as duplex ultrasound. During the vascular imaging test, the sonographer will move a handheld device over your legs, which will release ultrasound energy to project an image of your vein walls on a computer screen. This will allow the vein doctor to visualize the blood flow in your leg veins and determine if you truly have chronic venous insufficiency. 
Step 2: Curating a minimally invasive vein treatment plan
After diagnosing chronic venous insufficiency (or lack thereof), the vein doctor will curate a personalized vein treatment plan for you. The vein doctor will describe all of your vein treatment options, including their pros, cons, cost, insurance options, risks, and other factors. You will receive all the information you need to make an informed decision.
The vein doctor will also inform you about the best treatment for varicose veins according to your specific symptoms, medical history, and insurance coverage options. We always provide personalized vein treatments to ensure optimal comfort and results. We also provide a complete overview of your vein treatment cost, so you have no financial concerns during the procedure.
Step 3: Treating the root cause of varicose veins
The treatment for varicose veins starts with the primary treatment for chronic venous insufficiency. Your primary vein treatment will start with radiofrequency ablation, endovenous laser ablation, or venaseal. The ablation procedures involve making a small incision on the skin's surface to insert a catheter that generates thermal energy, collapsing the diseased vein until it's absorbed by the body. The VenaSeal procedure involves injecting a medical-grade adhesive into the diseased vein to seal it shut, rerouting the accumulated blood into healthier leg veins. The diseased vein is eventually absorbed by the body.
Step 4: Removing the superficial varicose veins
After the primary vein treatment, the vein doctor will focus on your superficial varicose veins and spider veins, i.e., the unhealthy veins visible on the skin's surface. Ambulatory phlebectomy is the best cosmetic treatment for varicose veins. The vein doctor will make small incisions on the skin's surface to extract the varicose veins, and the incision marks will gradually heal and fade away. Sclerotherapy is the best cosmetic treatment for spider veins. The vein doctor will inject a sclerosant medicine into the spider veins, turning them into hardened scar tissues eventually absorbed by the body.
Step 5: Recovering after varicose vein treatment
The minimally invasive spider vein and varicose vein treatment process is followed by a discussion of your recovery guidelines. You can resume most of your daily activities and work immediately after vein treatment — no downtime. However, you should avoid strenuous workouts and physical activities for a few days. The vein doctor in CA will be available to answer your questions and concerns throughout the recovery process.
How to take care of veins?
Drink lots of water to improve blood circulation

Eat lots of fruits and vegetables to strengthen vein walls

Wear compression stockings to minimize blood accumulation in leg veins

Elevate your legs above your heart's level to facilitate optimal blood flow

Take frequent walking breaks if you have a desk job

Engage in cardiovascular exercises that work your calf muscles, such as running

Stop smoking
Can varicose veins go away?
No, varicose veins cannot go away on their own because they're caused by underlying chronic venous insufficiency, for which you need medical treatment. If you don't treat varicose veins, blood will continue accumulating in your leg veins, leading to increased vascular dilation and a high risk of a vein rupture that causes profuse bleeding. That's why you must seek minimally invasive varicose vein treatments as soon as possible.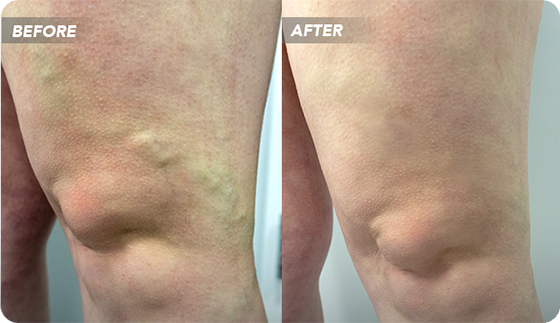 What is the best exercise for varicose veins?
Running, swimming, cycling, and yoga are the best exercises for varicose veins. They improve blood circulation and activate your calf muscles, thereby pushing the accumulated blood towards the heart, thereby alleviating the symptoms of vein disease. While exercise can prevent varicose veins from getting worse, it can't prevent or treat varicose veins completely. You need to consult vein clinics in California for long-lasting relief from varicose veins and spider veins.
CA Vein Doctors

Meet our team of California Vein Treatment Specialists
Vein Treatments are covered by most major medical insurances, including Medicare. Call us today to verify your insurance for FREE >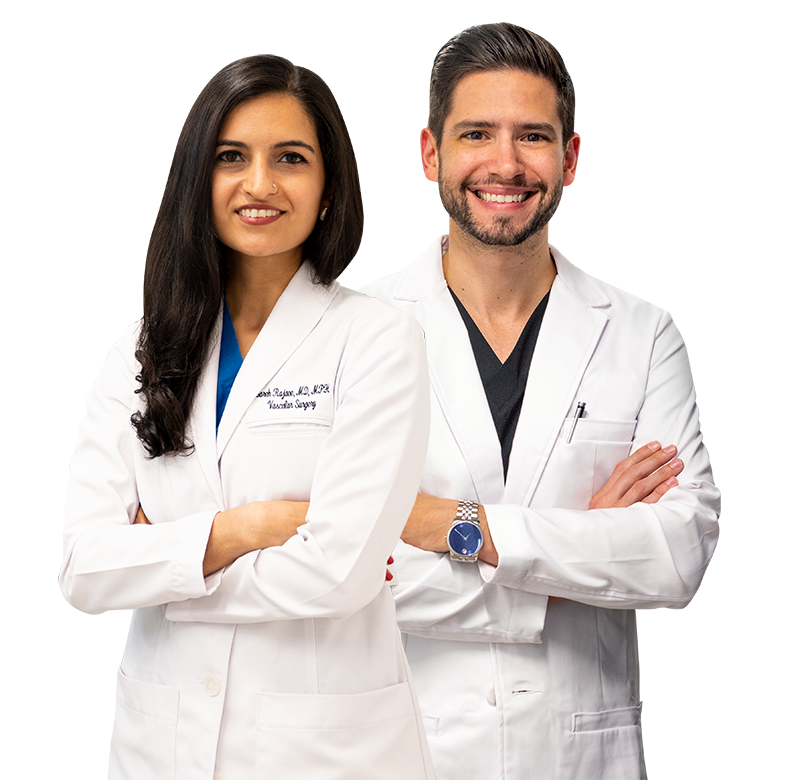 CALL US
Speak instantly with one of our team members; they will answer any questions you may have regarding insurance coverage, booking an appointment and our vein treatment locations. (858) 800-8772

BOOK APPOINTMENT
Visit our Book Appointment page and instantly request an appointment at the California vein Tretment. We offer Free Insurance Verification before your appointment.

GET DIRECTIONS
Learn how to get to one of our California vein centers in San Diego & San Jose