What kind of doctor is a vein specialist? We discuss spider and varicose veins in California
What is the phlebology definition?
Phlebology is the branch of medicine concerned with the prevention, diagnosis, and treatment of vascular conditions. Some of the most common vascular conditions are spider veins, varicose veins, deep vein thrombosis, leg ulcers, and chronic venous insufficiency (the root cause of most vein problems).
What kind of doctor is a vein specialist?
A doctor specializing in the diagnosis and treatment of vascular conditions, i.e., a vein specialist, is officially known as a "phlebologist." As such, if you're looking for doctors to treat spider and varicose veins, you should look for the following types of doctors — vein doctors, vein specialists, vascular specialists or doctors, vascular surgeons, or phlebologists.
Vein doctors can come from all fields of medicine — they can be hospitalists, general physicians, cardiologists, dermatologists, anesthesiologists, or other types of doctors. The only requirement to become a vein doctor is to undergo specialized training and take some written examinations. However, you must find highly skilled and trained vein doctors in California.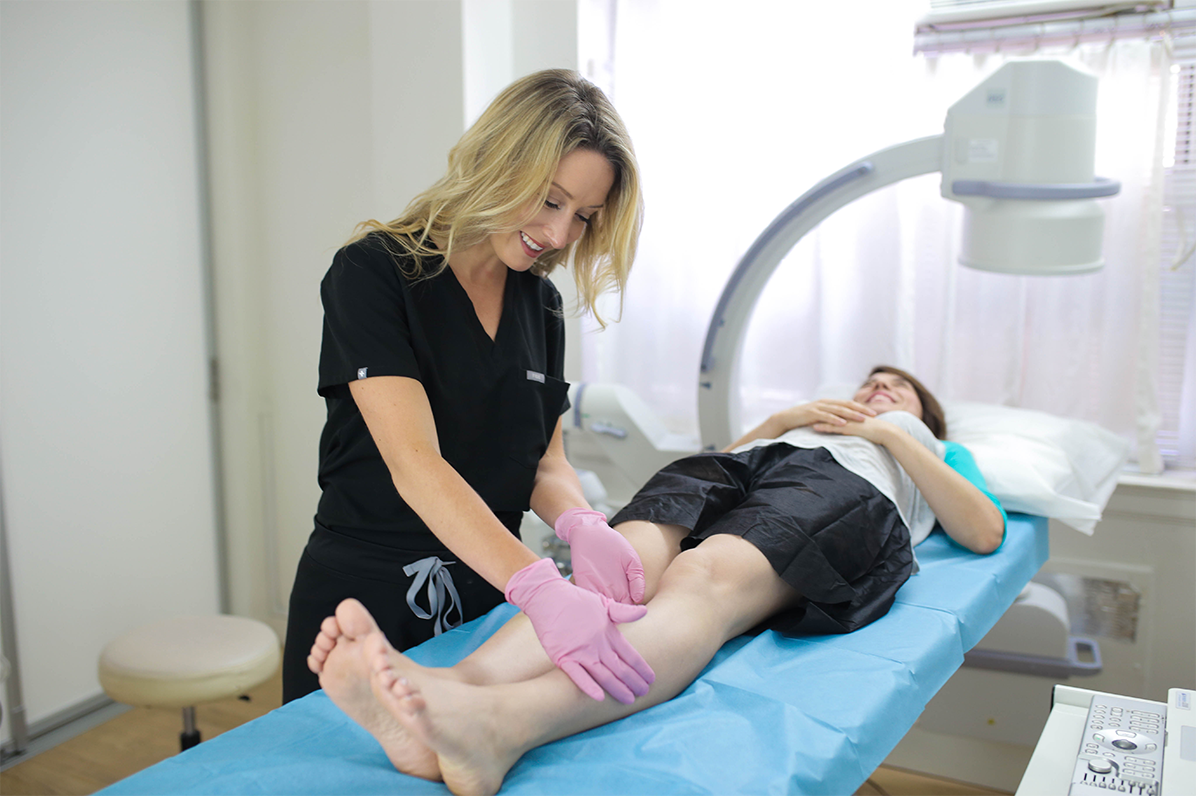 Where can I find varicose vein surgeons near me?
If you're looking for vascular surgeons near your location, you can use Google for assistance. When you enter the keywords "varicose vein surgeons near me," you will probably find lots of vein doctors near your location. Some of those vein doctors might be general physicians and cosmetic specialists offering vein treatments, and some of them might specialize in vein care. You should ideally focus on vein doctors specializing exclusively in vein care.
You should also look for varicose vein doctors near your location, i.e., those who are within 30 or 60 minutes from your home. Spider vein and varicose vein treatments are generally in-office procedures that conclude within an hour with no downtime, so you can easily seek treatment during a regular workday. However, that convenience is only available to you if the vein treatment center isn't extremely far.
When you narrow down your list of potential varicose vein doctors, you should also go through their ratings and reviews on popular third-party platforms, such as Facebook, Real Self, and Google. These platforms allow patients to leave reviews for their medical centers for vein treatment, and you can read those testimonials to find the best vein doctors. Please look for centers for vein treatment in California with 5-star ratings and reviews.
You must also ensure you find spider vein and varicose vein doctors specializing in the latest minimally invasive vein treatments, such as radiofrequency ablation, endovenous laser ablation, venaseal, ambulatory phlebectomy, and sclerotherapy. Vascular surgeries are considered to be outdated treatments because they're a lot more complex and risky than minimally invasive procedures. You should avoid vein doctors who recommend vascular surgeries.
Where can I find varicose vein surgeons near me?
Spider veins and varicose veins are usually symptomatic of chronic venous insufficiency, a circulatory disorder wherein the collapse of vein valves leads to the accumulation of blood in leg veins. The collapse of vein valves, in turn, may occur because of a wide range of reasons, such as aging, hormonal changes, genetic predisposition, obesity, pregnancy, a sedentary lifestyle, long periods of sitting or standing still, and more.
To put it simply, numerous risk factors contribute to the possibility of vein disease, spider veins, and varicose veins. As such, there are no definitive techniques to prevent spider veins and varicose veins. If you belong to one of the risk factors for vein disease or have a history of vein problems, you must make certain lifestyle changes to minimize your risk of vein problems.
The following are some tips to minimize the risk of spider veins and varicose veins:
Wear Compression Stockings

: Compression stockings are skin-tight garments that apply pressure on your leg veins, thus pushing the accumulated blood towards the heart. If you have a high risk of vein disease, you can wear compression stockings to minimize blood accumulation in leg veins.

Exercise Regularly

: If you have a high risk of vein disease, you should engage in cardiovascular activities, especially those that activate your calf muscles, such as running, swimming, cycling, and yoga. These exercises increase blood flow towards the heart while engaging your calf muscles to push the accumulated blood towards the heart.

Walk Frequently

: You should walk frequently to minimize the risk of spider veins and varicose veins. If you have a sedentary lifestyle or profession, such as a desk job, nursing, teaching, or driving, you should take frequent breaks to walk around and stretch your legs. Walking engages your calf muscles and improves blood circulation.

Elevate Your Legs

: If you have a high risk of vein disease, you should elevate your legs above your heart's level while sitting down. Blood accumulates in the leg veins because of gravity, so you can also use gravity to facilitate blood flow towards your heart.

Stay Hydrated: You should stay hydrated and drink lots of water. This is a general health tip, but it also strengthens your veins, minimizing the risk of vein disease.
What are the benefits of minimally invasive vein treatments?
Safer than vascular surgeries, involving a negligible risk of complications

Minimal risk of harsh side effects

Non-surgical treatment — involves a few injections or a small incision

No scarring or incision marks

Concludes within an hour

No downtime after the procedure

Treats the root cause of your vein problems

Covered by most insurance plans

Can be customized according to the patient's unique needs and goals
If you have spider veins and varicose veins, please schedule a consultation at our centers for vein treatment in California. We also provide free insurance verification.
CA Vein Doctors

Meet our team of California Vein Treatment Specialists
Vein Treatments are covered by most major medical insurances, including Medicare. Call us today to verify your insurance for FREE >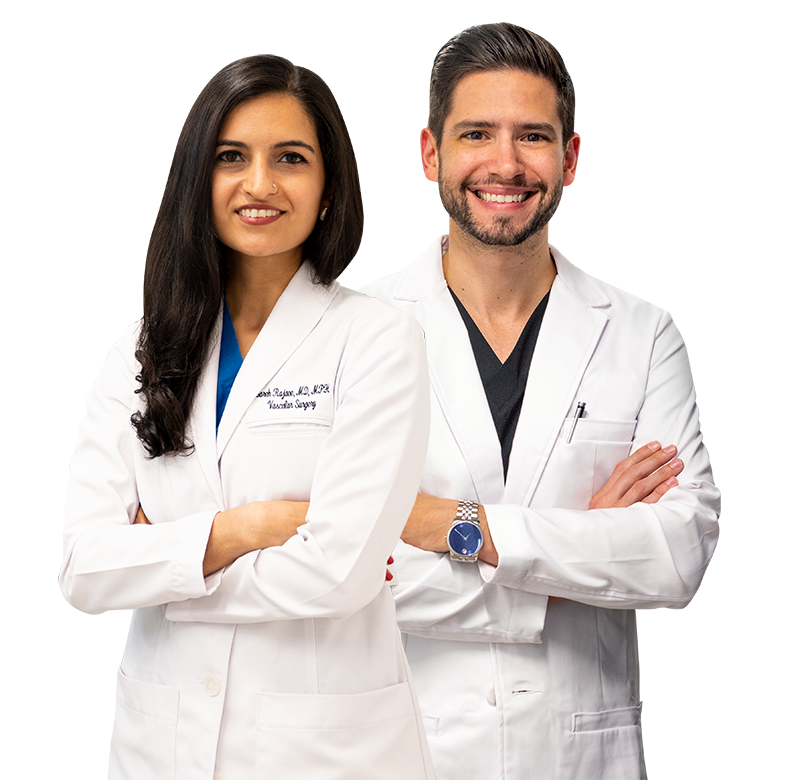 CALL US
Speak instantly with one of our team members; they will answer any questions you may have regarding insurance coverage, booking an appointment and our vein treatment locations. (858) 800-8772

BOOK APPOINTMENT
Visit our Book Appointment page and instantly request an appointment at the California vein Tretment. We offer Free Insurance Verification before your appointment.

GET DIRECTIONS
Learn how to get to one of our California vein centers in San Diego & San Jose